Essential Intelligence: National & Regional
National and Regional Scale Credit Ratings
Special-purpose credit ratings that only apply to issues/issuers in a specific country or region
S&P Global Ratings' National Scale Credit Ratings are an opinion of an obligor's creditworthiness (Issuer, Corporate, or Counterparty Credit Rating) or overall capacity to meet specific financial obligations (Issue Credit Rating), relative to other issuers and issues in a given country.


National Scale Credit Ratings provide a rank ordering of credit risk within the country. Given the focus on credit quality within a single country, national scale credit ratings are not comparable between countries. S&P Global Ratings also assigns regional scale credit ratings for certain groups of countries.


Regional Scale Credit Ratings
have the same attributes as National Scale Credit Ratings in that they are not comparable to other regional or national scales, and are a relative rank order within the region and exclude direct sovereign risks of a general or systemic nature. The Regional Scale Ratings definitions are the same as the National Scale Credit Ratings definitions but with the word "national" replaced with the word "regional".
Both National and Regional Scale Credit Ratings use S&P Global Ratings global rating symbols with the addition of a two-letter prefix to denote the country or region.
National & Regional Scale Credit Rating Prefix
| | | |
| --- | --- | --- |
| Scale Name | Prefix | Countries |
| Argentina National Scale | ra | Argentina |
| Brazil National Scale | Br | Brazil |
| Canada National Scale | no prefix | Canada |
| CaVal (Mexico) National Scale | mx | Mexico |
| Gulf Cooperation Council Regional Scale | gc | Gulf Cooperative Council countries |
| Japan SME National Scale | no prefix | Japan |
| Kazakhstan National Scale | kz | Kazakhstan |
| | | |
| --- | --- | --- |
| Maalot (Israel) National Scale | Il | Israel |
| Nigeria National Scale | ng | Nigeria |
| Nordic Regional Scale | no prefix | Denmark, Finland, Sweden |
| Russia National Scale | ru | Russia |
| Saudi Arabia National Scale | ksa | Saudi Arabia |
| South Africa National Scale | za | South Africa |
| Taiwan Ratings National Scale | tw | Taiwan |
| Turkey National Scale | tr | Turkey |
| Ukraine National Scale | ua | Ukraine |
| Uruguay National Scale | uy | Uruguay |
Saudi Arabia National Scale Ratings
S&P Global Ratings has introduced a new credit rating scale--the Kingdom of Saudi Arabia national credit rating scale (KSA scale)--for the assignment of credit ratings to issuers domiciled in Saudi Arabia.

The KSA scale is designed for issuers based in Saudi Arabia and for local currency-denominated capital markets debt, bank loans, and shariah-compliant obligations issued in Saudi Arabia. It complements the existing global rating scale and may offer finer credit risk differentiation within Saudi Arabia for issuers, counterparties, intermediaries, investors, and insurers involved in Saudi Arabia's financial markets by providing independent opinions of relative creditworthiness.


Read more in our recently published FAQ, where we answer some questions regarding the KSA scale and the rating process, "
Credit FAQ: Kingdom of Saudi Arabia National Credit Rating Scale Explained
"
For further information on our national and regional scale ratings generally, see "
Guidance: Methodology For National And Regional Scale Credit Ratings
."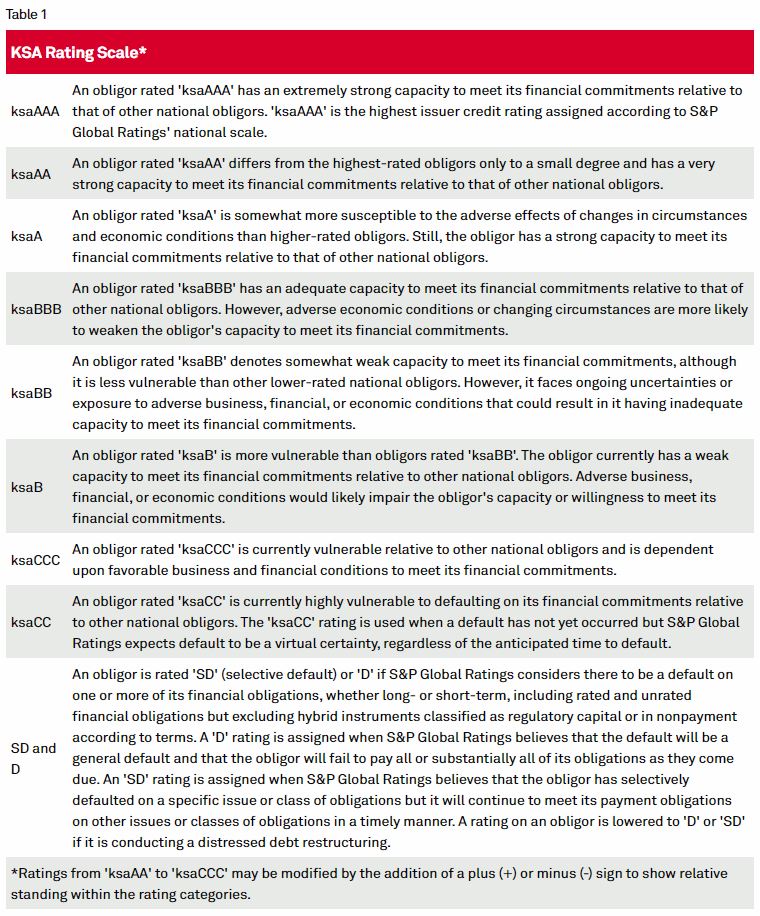 Contact Us
Learn more about National & Regional Scale Credit Ratings
Get in Touch
Learn more about S&P Global Ratings National & Regional Scale Credit Ratings
Fill out the form so we can connect you with the right person.
---
Contact Us
Jawad Ameeri

Regional Head of Business Development MENA

Khalid Albihlal

Managing Director & Office Head Saudi Arabia