If you follow ESG headlines, you know that social issues — the 'S' in ESG — came into much sharper focus last year: Employee safety and benefits and customer well-being got a lot more attention during the coronavirus pandemic. In the U.S., the May 2020 murder of George Floyd brought systemic racism into a harsh spotlight for corporate America, investors and the public. As the transition to a low-carbon economy gains global momentum, there is a corresponding push in the sustainability world to ensure it happens in a way that is just and equitable. Amid this changing backdrop, social bond issuance surged.
At S&P Global Sustainable1, we're constantly thinking about how to advance the discussion around the social issues that are increasingly shaping company strategy, investor activity and policy decisions. This includes everything from human rights to talent attraction and retention.
Diversity, equity and inclusion is another big and growing facet of the 'S' in ESG. We have good data when it comes to gender diversity. For example, a recent analysis from S&P Global Market Intelligence found that women remain significantly underrepresented in senior positions in corporate America.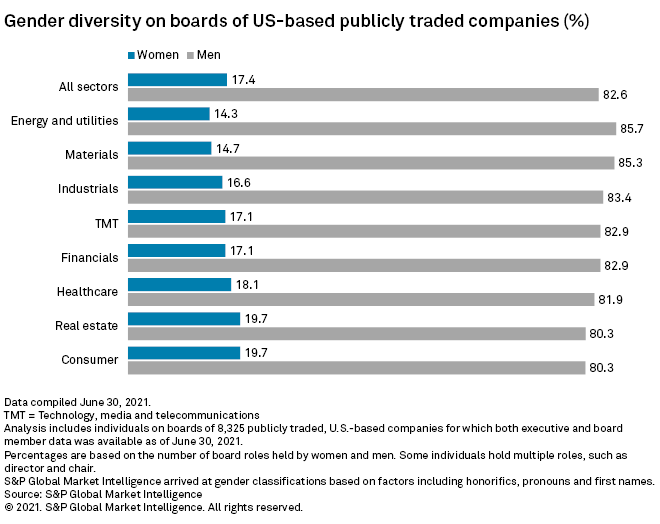 But data on other kinds of diversity, like race and ethnicity, is scarcer. That's something we're working to address. This year the S&P Global Corporate Sustainability Assessment — an annual survey of the sustainability practices of thousands of companies worldwide — has added questions around employee race, ethnicity and nationality; LGBTQI+ status; age; disability; and how a company manages discrimination and harassment in the workplace.
There are challenges to collecting this information. Even as governments in places like France are increasingly adopting regulations to accelerate the progress toward equality in the workplace, Europe's GDPR prohibits companies from collecting many personal data points. In the U.S., the Equal Employment Opportunity Commission already collects data on gender, race and ethnicity, but most companies are still reluctant to disclose these reports.
That is slowly starting to change, in part due to pressure from some of the world's largest asset managers. In his annual letter in January, BlackRock's top executive Larry Fink asked CEOs to disclose their long-term plans to improve diversity, equity and inclusion. State Street Global Advisors said it expects all companies in its portfolio to publicly articulate the role that race and gender diversity play in their broader human capital management practices and long-term strategy.
Regulators, too, are taking up the charge. The U.S. Securities and Exchange Commission is poised to roll out disclosure regulations on human capital management.
The SEC is considering several regulations that would enhance ESG disclosures related to human capital management, or the way companies handle their workforce — a key part of the 'S' in ESG.
Companies are at varying stages in their practices related to human capital management. The S&P Global 2020 Corporate Sustainability Assessment surveyed nearly 1,400 companies around the world on their human capital development practices in 2019, on topics like training, employee development programs and human capital return on investment.
The average score of all those companies in that category was 53 points out of 100. But on a regional basis, North American companies had a lower average score of 42 points, which is an indication that companies in the region have room to improve.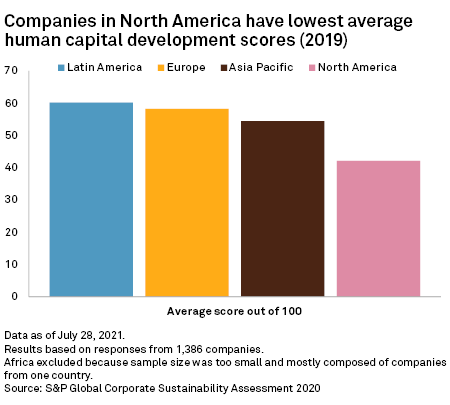 Some big Wall Street companies are already adapting their business strategies to account for the changing landscape. In August, the U.S. Securities and Exchange Commission approved a proposal by stock exchange giant Nasdaq to require listed companies to have at least one director who identifies as a woman and another who is Black, Hispanic, Native American, LGBTQ+ or part of another underrepresented community (or explain why they don't have this level of diversity). And in 2020, Goldman Sachs announced that it would stop underwriting IPOs for companies in the U.S. and Europe that don't have diverse boards.
Amid all the increased attention on the 'S' in ESG, there has been progress. There is also a long road ahead.
"Corporate America has a long way to go in order to drive sustained progress on the 'S,'" Goldman Sachs Global Head of Corporate Engagement Asahi Pompey tells us in the latest episode of ESG Insider, a podcast from S&P Global Sustainable1. "Now, we've seen commitments across the industry and various sectors. That being said … it can't be episodic, and it has to be sustained, and it has to be measurable. We all know things get done when they're measured."
How The Advancement Of Black Women Will Build A Better Economy For All
Leadership In Turbulent Times: Women CEOs During COVID-19
The 'S' in ESG here to stay after pandemic-induced surge in social bond sales