International Sustainability Board
New Global Sustainability Board Aims To Cut Through Disclosure Confusion
The confusing world of competing sustainability reporting frameworks and standards guiding companies and investors on ESG disclosure could soon get a little simpler.

The 26th U.N. Climate Change Conference, known as COP26, is scheduled to take place in Glasgow in November. And by the time it begins, the IFRS Foundation responsible for setting global accounting standards plans to create a new International Sustainability Standards Board. The new ISSB will guide companies on what sustainability disclosures ought to be made to investors to supplement financial statements.

ESG Insider Podcast: Standard setters work to close climate accounting gaps
Investors are increasingly calling on companies to reflect climate-related risks in their financial results. In September 2020, global investor groups representing more than $103 trillion wrote an open letter asking companies and their auditors to include climate-related risks in financial reporting.

We interview International Accounting Standards Board (IASB) Vice Chair Sue Lloyd about plans for a new international sustainability standards board.
---
---
What's Next
COP26 Could be 'Last Best Chance' to Combat Climate Change
COP26 might be the "last best chance" for nations to commit to curbing global emissions enough to meet a 1.5 degrees C trajectory.

That was the main message coming out of New York Climate Week.

The upcoming 26th U.N. Climate Change Conference in Glasgow, known as COP26, will mark five years since much of the world signed the Paris Agreement and set historic carbon reduction targets. But those targets were still too low to put the world on a path to limiting global temperature rise to 1.5 degrees C below preindustrial levels, the target scientists say must be hit to avoid the worst-case climate change scenario. The Paris Agreement signatories agreed to update their targets in five years, making COP26 in November a crucial deadline for more aggressive action.
Key Takeaways
COP26 is a crucial deadline for setting emissions targets that will stave off the worst climate change scenario, according to New York Climate Week speakers.


Net zero targets will require trillions of dollars in investment.


Translating the outputs of climate models into specific potential impacts is far from straightforward, more so when considering the financial materiality of climate events.


The green energy transition needs buy-in from developing nations.
---
---
Weather Events
Flooding Isn't the Only Water-Related Climate Risk Facing New York City
New York City headed into Climate Week hard on the heels of flash flooding that claimed more than 40 lives.

The back-to-back climate disasters — the remnants of Hurricane Ida hammered the city less than two weeks after Hurricane Henri, and the resulting flash floods left New York subways and streets submerged — underscore the potential impact of climate change, and the destruction it can cause if large, urban centers fail to invest in adaptation infrastructure and if governments don't take action to reduce emissions.

New York City will not be immune to floods in the future, particularly in the parts of its five boroughs closest to water. Manhattan is surrounded by the East and Hudson Rivers as well as the Harlem River, a strait dividing Manhattan from the Bronx. But while flooding and sea level rises will continue to be a threat, a new S&P Global Sustainable1 analysis reveals that by 2050, the biggest physical risk from climate change facing the city overall will be a lack of water, potentially leading to shortages for the city's more than 8 million inhabitants.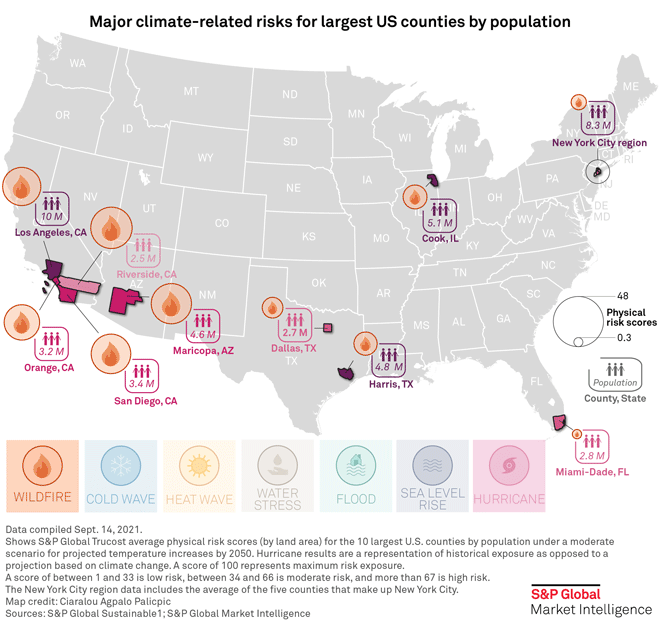 ESG Insider Podcast: Record Floods Highlight Climate Risks to Business in Europe's Richest Nations
In mid-July 2021, the heaviest rainfall in a century triggered intense flash floods and inundated several towns in Germany, the Netherlands and Belgium, causing at least 188 deaths. The floods in Europe are a reminder that although emerging markets are likely to be hit hardest by a temperature rise, richer countries in the northern hemisphere are far from immune from the effects of severe weather.

In this episode, we talk with experts to understand the biggest climate risks facing Europe's biggest economies, analyzing physical risk data from S&P Global Trucost.


---
News and insights into environmental, social and governance developments driving change in business and investment decisions.
SUBSCRIBE TO THE NEWSLETTER
---
Corporate Assets & Climate Change
Corporate Physical Assets Increasingly in Harm's Way as Climate Change Intensifies
Vital corporate assets around the world, including factories, transportation networks and power transmission lines, are increasingly in harm's way as the planet endures a growing number of catastrophic weather events linked to climate change, according to a new analysis by S&P Global Sustainable1.

In a comparison of industries, physical assets owned by the utilities, materials, energy, consumer staples and health care sectors face the greatest danger from the consequences of a warming world between now and 2050, according to S&P Global Trucost data.

While headline-grabbing events such as hurricanes and wildfires are likely to become more severe and frequent in a warming world, the greatest threat, if left unmitigated, across all industries doesn't show on many investors' radar: Water scarcity. The facilities run by utilities and the materials industry are particularly exposed to water shortage, exacerbated by shifting rainfall patterns and drought.


Keeping the Lights On: U.S. Utilities' Exposure to Physical Climate Risks
We found that wildfires, storms, and water stress are the most material climate hazards facing 24 rated investor-owned U.S. utilities in the next 30 years, assuming unmitigated exposure, according to our analysis of Trucost's Climate Change Physical Risk data. Exposure to physical climate risks is context- and place-specific and drives potential adaptation needs.
In particular, transmission lines for companies on the West Coast present a concentrated risk given their extensive and intensifying wildfire exposure. About 19% of utilities' transmission lines face high (unmitigated) wildfire exposure by 2050 under either or low-stress or high-stress scenarios.
Read the Full Article
Utilities Face Greatest Threat as Climate Risks Intensify
Climate change is pushing power, gas and water companies to the frontlines of an intensifying battle against natural disasters that is set to increasingly hit the profits of businesses around the world.
Utilities face the highest combined physical risk from climate hazards like water stress, storms and wildfires among different industries, according to an analysis of data from Trucost.
Read the Full Article
---
'Net Zero' has become a staple discussion across the global value chain, with a multitude of commitments being provided to reach net zero by a certain date. What strategy is needed to achieve this mission critical sustainability goal? Join S&P Global thought leaders for an in-depth discussion on the journey of committing to net zero for investment managers, banks and corporations.
Watch this Webinar Replay
---
Emissions Trajectory & Net Zero Gap
2025 Could Mark a Tipping Point for the Low-Carbon Energy Transition
Even though most national net zero targets are decades away, the world would need to make significant strides in decarbonizing energy-related emissions within the next four years to achieve net zero emissions by 2050.

For years, scientists have said that limiting global warming to no more than 1.5 degrees Celsius above pre-industrial levels is crucial to avoid some of the worst impacts of climate change. The latest report from the U.N.'s Intergovernmental Panel on Climate Change created an even greater sense of urgency for all parts of the world to start moving now, rather than later, to reach that goal.

Even under a less ambitious scenario in which global warming is limited to 2 degrees C, the world would need to make cuts to fossil-fuel related emissions across multiple sectors by 2025, S&P Global Sustainable1 research finds.


Reference Case Outlook shows the current trajectory for fossil-fuel related emissions, broken down by geographies. The 2-Degree Outlook shows how those geographies need to reduce emissions to limit global warming to 2 degrees C relative to pre-industrial levels.
Biden Vows to Double U.S. Climate Financing as World Leaders Seek More Carbon Cuts
With a critical global climate summit just over a month away, worried government and business leaders are racing this week to try to drum up support for deeper carbon emission cuts and more adaptation aid ahead of COP26.
Speaking before the United Nations General Assembly, President Joe Biden pledged Sept. 21 to work with Congress to double U.S. public financing to $11.4 billion to help developing nations reduce emissions and prepare for more extreme weather events.
Read the Full Article
---
ESG Insider is a podcast from S&P Global that takes you inside the environmental, social & governance issues shaping the business world today. Each episode, co-hosts Lindsey Hall and Esther Whieldon interview ESG experts, leveraging S&P Global data to shine a light on the sustainability opportunities and risks that business leaders and investors need to know about.
LISTEN TO THE PODCAST
---