Published November 2020
The candles, paper packaging, board sizing, cosmetics and personal care, plastics, and rubber-processing industries are the major consumers of waxes. A generally accepted definition of the term wax does not exist, primarily because of the large number of products with waxlike properties and the chemical complexity of individual wax types. Selection of wax types is based on commercial importance and volumes consumed. Waxes are typically processed and blended to meet specific performance requirements.
The following pie chart shows world consumption of waxes by major region: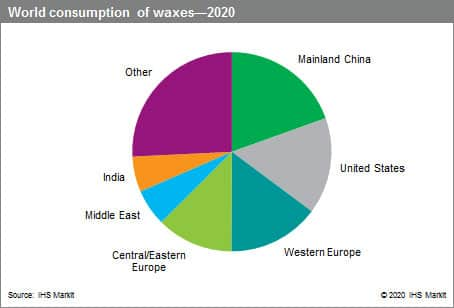 The waxes industry has been facing a continued decline in petroleum waxes supply, primarily in developed countries. Meanwhile, demand growth has been driven by Asia, particularly mainland China and India, owing to their economic growth and industrialization. To meet the shortage of petroleum waxes supply in developed countries, as well as the growing customer base in Asia, there have been rapid capacity expansions globally. Synthetic waxes have also taken some market share from petroleum waxes as an alternative wax type.
For more detailed information, see the table of contents, shown below.
S&P Global's Chemical Economics Handbook –Waxes is the comprehensive and trusted guide for anyone seeking information on this industry. This latest report details global and regional information, including

Key Benefits
S&P Global's Chemical Economics Handbook –Waxes has been compiled using primary interviews with key suppliers, organizations and leading representatives from the industry in combination with S&P Global's unparalleled access to upstream and downstream market intelligence, expert insights into industry dynamics, trade and economics.
This report can help you:
Identify trends and driving forces influencing chemical markets
Forecast and plan for future demand
Understand the impact of competing materials
Identify and evaluate potential customers and competitors
Evaluate producers
Track changing prices and trade movements
Analyze the impact of feedstocks, regulations, and other factors on chemical profitability