Published March 2021
Vitamins are essential for the development and well-being of humans and animals. Because humans and animals cannot synthesize vitamins in adequate amounts for their metabolic needs, these micronutrients must be obtained from the diet. Only small amounts are required for health.
Global production of 13 essential micronutrients—vitamins A (retinol), B1 (thiamine), B2 (riboflavin), B3 (niacin), B5 (pantothenic acid), B6 (pyridoxine), B7 (biotin), B9 (folic acid), B12 (cyanocobalamin), C (ascorbic acid), D (cholecalciferol), E (tocopherol), and K (menadione)—is concentrated in mainland China. In 2020, mainland China accounted for almost three-quarters of vitamin production; Western Europe and India contributed most of the remainder. Mainland China was also responsible for the lion's share of global exports; in contrast, the United States was the largest importer of vitamins.
The following pie chart shows global consumption of vitamins in 2020: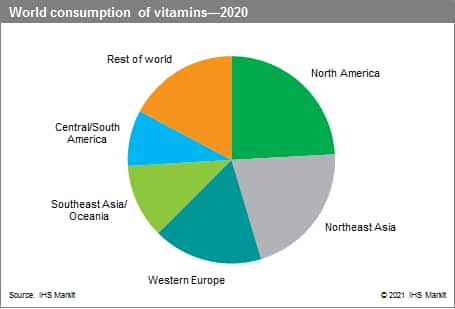 In 2020, North America (the United States, Canada, and Mexico) was the largest consumer of vitamins, followed by Northeast Asia (including mainland China, Japan, South Korea, and Taiwan). Four vitamins—vitamin C, vitamin E, vitamin B3, and vitamin B5—accounted for the bulk of global consumption. Vitamin C alone was responsible for more than half of demand. Global consumption of vitamin C (primarily in the form of dietary supplements but also in foods and beverages) surged in 2020 because of the COVID-19 pandemic. Vitamin C supports the immune system.
Animal feed was the largest end use for vitamins in 2020, followed by supplements and pharmaceuticals, food, and personal care products/other. "Other" includes use of vitamin B3 as a precursor to pesticides and chemical intermediates.
For more detailed information, see the table of contents, shown below.
S&P Global's Chemical Economics Handbook – Vitamins is the comprehensive and trusted guide for anyone seeking information on this industry. This latest report details global and regional information, including

Key benefits
S&P Global's Chemical Economics Handbook – Vitamins has been compiled using primary interviews with key suppliers and organizations, and leading representatives from the industry in combination with S&P Global's unparalleled access to upstream and downstream market intelligence and expert insights into industry dynamics, trade, and economics.
This report can help you
Identify trends and driving forces influencing chemical markets
Forecast and plan for future demand
Understand the impact of competing materials
Identify and evaluate potential customers and competitors
Evaluate producers
Track changing prices and trade movements
Analyze the impact of feedstocks, regulations, and other factors on chemical profitability