Published October 2021
Sulfone polymers are high-performance thermoplastics that have –SO2– or sulfone moiety linkages. They are high-heat amorphous thermoplastics that offer more toughness, strength, and hydrolytic stability than other transparent plastics. Moreover, they can withstand prolonged exposure to water, chemicals, and temperature extremes, handling a broad range of temperatures from -40°C to 204°C. Sulfone polymers' favorable combustion characteristics—inherent flame retardance, low smoke emission, and chemical resistance—have also been recognized as beneficial in meeting stringent safety requirements. Sulfone polymers also have relatively high melt viscosities under processing conditions that cause parts to be molded with the same physical properties. Three types of sulfone polymers are commercially available; they are commonly known as polysulfone (PSU), polyethersulfone (PESU), and polyphenylsulfone (PPSU).
The following pie chart shows world consumption of sulfone polymers: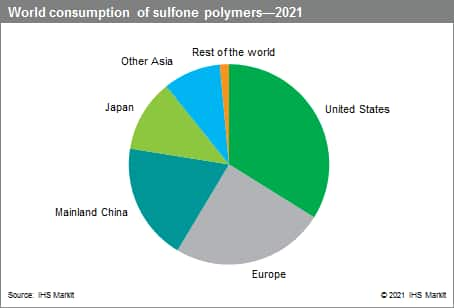 In 2021, the United States is the dominant producer of sulfone polymers, followed by South Korea, Germany, mainland China, and Japan. Consumption of sulfone polymers is led by medical and transportation uses, followed by household/food use, electrical/electronic, and industrial/other. The COVID-19 pandemic impacted consumption of sulfone polymers in 2020, but markets were already showing signs of recovery in 2021. The largest end-use market, medical applications, continued to grow in 2020, whereas the other applications declined. The transportation market, especially the aviation/aircraft sector, was the hardest hit by the global pandemic, owing to government lockdowns and travel restrictions. World consumption of sulfone polymers is expected to continue to increase at 4–5% per year during 2021–26.
Forces that will continue to drive sulfone polymer consumption include, but are not limited to
A continued and increased penetration of sulfone polymers in aircraft, automobiles, and medical applications
Continued fuel-efficiency (lightweighting) and CO2 emission standards
More food and consumer items that require higher temperature limits
Continued use of sulfone polymers in membrane applications
Continued miniaturization in electronics, which calls for higher temperature requirements
Aging population and the increasing desire for a healthy lifestyle, where the healthcare sector will increase at above-average growth rates.
For more detailed information, see the table of contents, shown below.
S&P Global's Chemical Economics Handbook – Sulfone Polymers is the comprehensive and trusted guide for anyone seeking information on this industry. This latest report details global and regional information, including
Key Benefits
S&P Global's Chemical Economics Handbook – Sulfone Polymers has been compiled using primary interviews with key suppliers and organizations, and leading representatives from the industry in combination with S&P Global's unparalleled access to upstream and downstream market intelligence and expert insights into industry dynamics, trade, and economics.
This report can help you
Identify trends and driving forces influencing chemical markets
Forecast and plan for future demand
Understand the impact of competing materials
Identify and evaluate potential customers and competitors
Evaluate producers
Track changing prices and trade movements
Analyze the impact of feedstocks, regulations, and other factors on chemical profitability