Published September 2020
Styrenic block copolymers (SBC or SBC elastomers) encompass unsaturated SBC (USBC) and hydrogenated SBC (HSBC). The main unsaturated SBCs include styrene-butadiene-styrene (SBS) block copolymers and styrene-isoprene-styrene (SIS) block copolymers. The main hydrogenated SBCs include styrene-ethylene-butylene-styrene (SEBS) and styrene-ethylene-propylene-styrene (SEPS), as well as other lower-volume HSBCs.
As with other thermoplastic elastomers (TPEs), SBCs are characterized by their ability to be processed as thermoplastic materials while possessing the physical and mechanical properties characteristic of filled vulcanized elastomers. In addition, the scrap generated is reprocessable. These factors combine to reduce the production cost of finished articles based on these materials, compared with vulcanized rubber.
The following pie chart shows world consumption of styrenic block copolymers: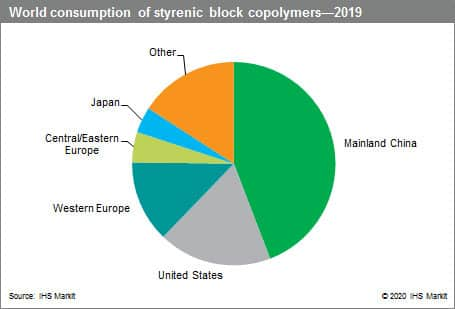 Mainland China continues to dominate the SBC market in terms of nameplate capacity, production, and consumption. In 2019, mainland Chinese consumption of SBC accounted for 44% of global consumption.
On a global level, asphalt (bitumen) modification for paving and roofing, and footwear (both mainly use SBS) were the two largest consumption segments for SBCs in 2019. Use in asphalt modification has usually been governed by several factors, including competition from other asphalt modifiers, paving of new roads and highway construction, repair of roads and highways and resurfacing thereof, in addition to federal, state, city, and private spending of available and future funds. SBS use in footwear is generally governed by competitive-material factors, differences in shoe types, and general country-specific shoe production volumes.
Other important end uses for SBCs include, but are not limited to, use in adhesives and sealants, plastics/polymer modification, compounded products and others (including medical uses). Use in adhesives has been growing as a result of use in hygiene products (e.g., SIS use in diapers for the young and elderly, and feminine hygiene products). In addition, uses in medical products has witnessed a resurgence due to the COVID-19 pandemic. Additionally, high growth has also been noticed in HSBCs in compounded products (mainly SEBS).
For more detailed information, see the table of contents, shown below.
S&P Global's Chemical Economics Handbook –Styrenic Block Copolymers is the comprehensive and trusted guide for anyone seeking information on this industry. This latest report details global and regional information, including

Key benefits
S&P Global's Chemical Economics Handbook –Styrenic Block Copolymers has been compiled using primary interviews with key suppliers and organizations, and leading representatives from the industry in combination with S&P Global's unparalleled access to upstream and downstream market intelligence and expert insights into industry dynamics, trade, and economics.
This report can help you
Identify trends and driving forces influencing chemical markets
Forecast and plan for future demand
Understand the impact of competing materials
Identify and evaluate potential customers and competitors
Evaluate producers
Track changing prices and trade movements
Analyze the impact of feedstocks, regulations, and other factors on chemical profitability