Published September 2023
Styrene monomer (SM) is a toxic liquid hydrocarbon with a strong aromatic aroma produced from ethylene and benzene. Styrene is a key intermediate material used in the manufacturing of plastics, synthetic rubber and resins, which are consumed in the electronics, household, automotive, construction, healthcare and packaging sectors. It is widely known as the precursor to polystyrene (PS) and many other copolymers. With the adverse impact on the global economy from the COVID-19 pandemic, along with a vast amount of restructuring and rationalization over the last decade, the global styrene is still in the long, slow process of recovery. The following chart shows world consumption of styrene: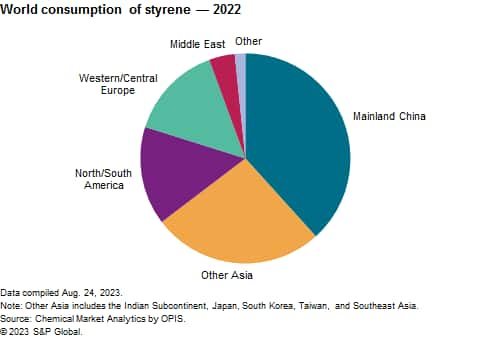 Polystyrene (PS), expandable polystyrene (EPS) and acrylonitrile-butadiene-styrene (ABS) resins are the largest markets driving styrene consumption. In 2022, these three segments contributed nearly 75% of total styrene consumption. Northeast Asia is the largest consumer of styrene, representing nearly 60%of the global market, with mainland China as the key driver. Western Europe and North America are the next-largest markets, together representing more than one-fourth of total styrene consumption in 2022.
Global styrene consumption grew at an average of 1.0% per year during 2017–22. Out of the three major end-use consumption markets, styrene demand for ABS resins has been the healthiest market during these five years. Technological trends making electronics smaller, increasing recycled content, high costs, health/environmental issues, plastic substitution and the impact of the COVID 19 pandemic have all contributed to the minimal demand growth for styrene over the last five years.
Looking ahead, global styrene consumption is projected to increase at about 2%-3% per year between 2022 and 2027. ABS resins will continue to be the fastest-growing application during this time frame.
For more detailed information, see the table of contents, shown below.
S&P Global's Chemical Economics Handbook – Styrene is the comprehensive and trusted guide for anyone seeking information on this industry. This latest report details global and regional information, including
Key Benefits
S&P Global's Chemical Economics Handbook – Styrene has been compiled using primary interviews with key suppliers, organizations and leading representatives from the industry in combination with S&P Global's unparalleled access to upstream and downstream market intelligence, expert insights into industry dynamics, trade and economics. 
This report can help you:
Identify trends and driving forces influencing chemical markets
Forecast and plan for future demand
Understand the impact of competing materials
Identify and evaluate potential customers and competitors
Evaluate producers
Track changing prices and trade movements
Analyze the impact of feedstocks, regulations, and other factors on chemical profitability