Published July 2022
Styrene-acrylonitrile (SAN) resins are optically clear resins applied in a variety of end uses including housewares and consumer goods, various compounded products, packaging, appliances (electrical and electronic), medical applications, and certain automotive applications. In these markets, SAN is used for its rigidity, clarity (although various compounded grades are translucent or opaque), excellent gloss, heat resistance, good processability, load-bearing strength, and resistance to chemicals. Acrylics, polystyrene, polycarbonate, polyvinyl chloride (PVC), and clear acrylonitrile-butadiene-styrene (ABS) are among SAN resins' main competitors. SAN resin production for ABS and weatherable polymers is not covered in this report, nor is captive use of styrene and acrylonitrile for SAN-type polymeric polyols.
The following pie chart shows world consumption of SAN resins: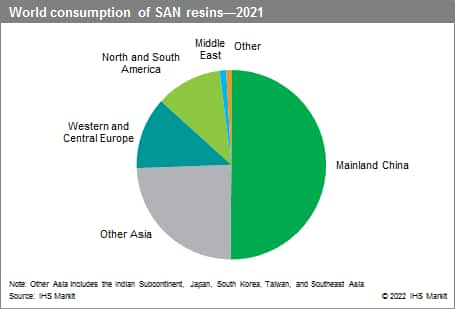 Northeast Asia is the largest producer and consumer of SAN resins, led by mainland China; other production in Northeast Asia (in Japan, South Korea, and Taiwan) is largely for the export market, primarily to mainland China. Mainland China accounted for about half of the global SAN resin consumption and imports in 2021, and it will continue to drive the SAN market during 2021–26.
The major consumers of SAN resins are mainland China, Japan, Western Europe, and the United States. Mainland China uses most of its SAN resin in electrical and electronic applications. Electrical and electronic applications are also the largest market for SAN resins in Western Europe. In the United States, the houseware segment is the largest, while in Japan, most SAN resins are used in compounding applications.
Consumption of SAN resins will register the highest growth in the Indian Subcontinent followed by Southeast Asia and mainland China. The United States and Western Europe will grow at a slower rate than the global average, representative of their mature demand.
For more detailed information, see the table of contents, shown below.
S&P Global's Chemical Economics Handbook – Styrene-Acrylonitrile (SAN) Resins is the comprehensive and trusted guide for anyone seeking information on this industry. This latest report details global and regional information, including

Key benefits
S&P Global's Chemical Economics Handbook – Styrene-Acrylonitrile (SAN) Resins has been compiled using primary interviews with key suppliers and organizations, and leading representatives from the industry in combination with S&P Global's unparalleled access to upstream and downstream market intelligence and expert insights into industry dynamics, trade, and economics.
This report can help you
Identify trends and driving forces influencing chemical markets
Forecast and plan for future demand
Understand the impact of competing materials
Identify and evaluate potential customers and competitors
Evaluate producers
Track changing prices and trade movements
Analyze the impact of feedstocks, regulations, and other factors on chemical profitability