Published August 2020
Sodium cyanide is used throughout the world, primarily as a reagent in the mining industry for the isolation of precious metals. Close to 90% of sodium cyanide is used for gold and silver processing in the North American markets and around 78% is used for this purpose worldwide. However, it is also used as a chemical intermediate, especially in locations where there is no local supply of hydrogen cyanide, since sodium cyanide can be transported and stored. In Japan and Europe, chemical uses predominate, while in North and South America, Australia, South Africa, and mainland China, use for gold extraction is the major application. There is substantial world trade in solid sodium cyanide, with the United States, South Korea, and Australia as the major exporting nations.
The following pie chart shows world consumption of sodium cyanide: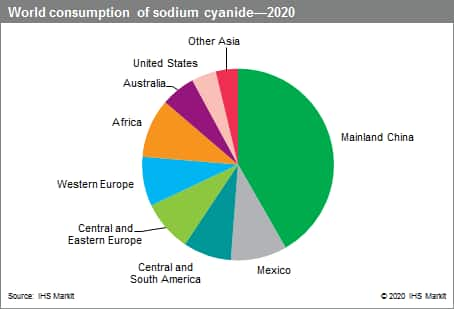 In recent years, gold prices increased substantially, resulting in an increase in gold mining volumes and new mine projects, which in turn led to rising sodium cyanide consumption. The price of gold reached an all-time high in August 2020, and could continue to increase as a result of economic instability in the ongoing coronavirus disease 2019 (COVID-19) crisis. Replacement and recycling projects for cyanide are under development, and could lead to lower cyanide consumption in the longer term.
The sodium cyanide market has changed in recent years because of fluctuations in gold prices. Gold mining companies have been investing capital into new grassroots exploration projects, as well as prolonging activities in mines that had been winding down. This has resulted in increased demand for sodium cyanide, and growth is expected to continue during the forecast period, depending on continuing operations at the gold mines. However, it is possible that consumption could decline over the next five years because of a combination of factors. Increasing delays and impediments in starting up large-scale projects could impact consumption, as would investment in capital costs. The ongoing global financial situation may cause people to invest more in gold, thus creating demand, but mining companies may find it difficult to finance projects. Exploration efforts for both expansions and new projects continue, but there are relatively few new areas that are available for gold exploration and production. A decrease in gold production also increases the potential of higher long-term gold prices.
For more detailed information, see the table of contents, shown below.
S&P Global's Chemical Economics Handbook – Sodium Cyanide is the comprehensive and trusted guide for anyone seeking information on this industry. This latest report details global and regional information, including
Key benefits
S&P Global's Chemical Economics Handbook – Sodium Cyanide has been compiled using primary interviews with key suppliers and organizations, and leading representatives from the industry in combination with S&P Global's unparalleled access to upstream and downstream market intelligence and expert insights into industry dynamics, trade, and economics.
This report can help you
Identify trends and driving forces influencing chemical markets
Forecast and plan for future demand
Understand the impact of competing materials
Identify and evaluate potential customers and competitors
Evaluate producers
Track changing prices and trade movements
Analyze the impact of feedstocks, regulations, and other factors on chemical profitability