Published June 2023
The various markets for rare earths — as mixtures, individual elements or compounds — have developed in a very sporadic manner. Several markets that initially promised to consume major amounts of rare earths were developed, only to have the rare earths displaced by less costly alternatives. Rare earth–exchanged fluid cracking catalysts continue to be a major market for rare earths with the introduction of reformulated gasolines. Newer markets are growing for individual high-purity rare earths, particularly for neodymium for use in high-performance permanent magnets. Rare earth–containing permanent magnets for electric vehicle traction motors and wind turbine generators are the major driver of rare earth demand over the last decade. As a result of these changes, the rare earth oxide (REO) industry has developed into a two-tiered industry. Mixed REOs, which formerly constituted the bulk of the business, show stagnant demand, while demand for purified, specialized REOs is strong with good prospects. Special, relatively small-volume applications have grown over the last 10 years, with corresponding price fluctuations.
In 2022, mainland China was the largest consumer of rare earths, followed by Japan. Mainland China's largest domestic rare earth–consuming market is permanent magnets, followed by polishing powders, catalysts, glass-ceramics, metallurgy, NiMH batteries, phosphors and other new materials markets. All of these markets are growing faster in mainland China than comparable markets in the United States, Western Europe and Japan.
The following pie chart shows consumption of rare earth products by major region: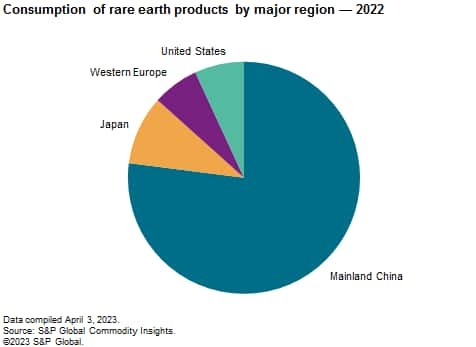 In 2011 and 2012, world consumption of rare earths decreased as supplies from mainland China were restricted by export and production quotas. The prices for rare earths peaked in 2011, prompting many rare earth product manufacturers to seek ways to reduce the amount of rare earths in their applications in order to save costs and limit supply risks. Between 2013 and 2015, prices for all REOs continued to decline by as much as 90% compared with the price levels observed in 2011. Demand remained weak for certain REOs between 2013 and 2015, and new production in Australia and the United States caused a further decrease in prices in early 2016. Prices for most rare earths remained steady between 2016 and 2018, with the exception of neodymium oxide and yttrium oxide, which increased slightly between 2017 and 2018. With the increase in demand for permanent magnet motors, prices of neodymium, praseodymium and dysprosium continued the upward price trajectory through 2021, with some levelling out toward the end of 2022.
The world's leading producer is Solvay. A large share of its production is at the La Rochelle, Poitou, France facility, with additional production capacity located in Baotou, mainland China at the Baotou Solvay Rare Earths subsidiary, and in the United States. Solvay is forward-integrated, producing final goods such as catalysts, fuel additives, phosphors for lighting and electronics, and pigments, and is also one of the world's largest glass-polishing compound suppliers. Additional leading rare earth refiners/product manufacturers include BASF SE, Johnson Matthey and W.R. Grace & Co. They are forward-integrated producers of final goods, including catalysts. Inner Mongolia Baotou Steel Rare-Earth (Group) Hi-Tech Co., Ltd. in mainland China is the leading rare earth mining company, and over the last decade has also increased its forward-integrated production to include polishing powders, magnets, and phosphors.
There are more producers of downstream products derived from rare earth minerals than mineral producers and they are also more global in scope; however, the industry is dominated by only a few large firms. The industry has various levels of integration, ranging from the mining and refining of the whole spectrum of marketable rare earth elements, to niche players that produce finished industrial or consumer goods incorporating a single rare earth element.
For more detailed information, see the table of contents, shown below.
S&P Global's Chemical Economics Handbook – Rare Earth Minerals and Products is the comprehensive and trusted guide for anyone seeking information on this industry. This latest report details global and regional information, including

Key benefits
S&P Global's Chemical Economics Handbook – Rare Earth Minerals and Products has been compiled using primary interviews with key suppliers and organizations, and leading representatives from the industry in combination with S&P Global's unparalleled access to upstream and downstream market intelligence and expert insights into industry dynamics, trade, and economics.
This report can help you
Identify trends and driving forces influencing chemical markets
Forecast and plan for future demand
Understand the impact of competing materials
Identify and evaluate potential customers and competitors
Evaluate producers
Track changing prices and trade movements
Analyze the impact of feedstocks, regulations and other factors on chemical profitability