Published October 2020
Polyvinyl butyral (PVB) is a specialty resin used primarily as a raw material for laminated safety glass sheet in automotive and architectural applications; these two applications account for 59% and 34%, respectively, of total consumption. Global consumption of polyvinyl butyral has been growing faster than the general automotive and architectural markets. In automotive applications, laminated safety glass has been the de facto interlayer for windshields for many years, but is increasingly used to produce side and roof glass on luxury cars to increase safety and reduce noise and light transfer. In architectural applications, laminated safety glass is used to satisfy regulations covering windows, as well as to promote energy savings and reduce noise. PVB is also used in solar panels as encapsulants, but this application remains fairly small. Mainland China and Europe account for the majority of growth. Laminated safety glass is widely used in the European architectural market, but less so elsewhere in the world because of competing glass products. Automotive production continues to grow significantly in mainland China.
PVB is produced by a few companies that also usually produce PVB film and sheet. In addition to the major use as a precursor for the production of PVB-based film and sheet, PVB resins are consumed in wood coatings, wash primers, structural adhesives, inks/dry toners, and as a binder for ceramics and composite fibers. However, this report focuses on PVB resins used to produce PVB film and sheet.
The following pie chart shows world consumption of PVB: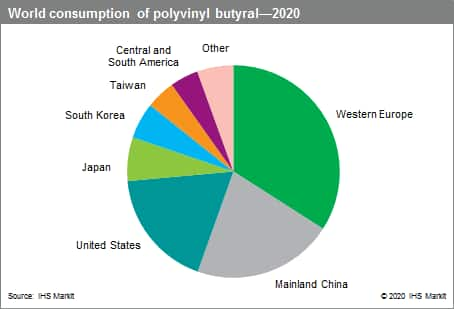 The three major multinational producers of PVB are Eastman Chemical (Solutia subsidiary), Kuraray, and Sekisui, which together account for nearly 60% of global capacity. Most of the remaining capacity is operated in mainland China by domestic firms. All producers produce film for the automotive and/or architectural markets.
Sales in the primary end markets for polyvinyl butyral depend on the performance of the general economy, especially for safety glass in the automotive and architectural markets. The polyvinyl butyral film and sheet industry will expand into markets with expanding automotive production. In the most-developed markets such as the United States, Western Europe, and Japan, but also in the Middle East, growth in demand for PVB film has been driven primarily by architectural laminated safety glass; the automotive glass market is mature in these regions.
Globally, the split of use of PVB sheet and film is about 60% automotive and 40% architectural. In Europe, the Middle East, and Africa, use in architectural applications is more important.
Other PVB applications include use in solar panels as encapsulants. The top-four film and sheet producers have developed film products for this application. However, the market is dominated by well-entrenched ethylene–vinyl acetate (EVA) films.
For more detailed information, see the table of contents, shown below.
S&P Global's Chemical Economics Handbook – Polyvinyl Butyral is the comprehensive and trusted guide for anyone seeking information on this industry. This latest report details global and regional information, including

Key benefits
S&P Global's Chemical Economics Handbook – Polyvinyl Butyral has been compiled using primary interviews with key suppliers and organizations, and leading representatives from the industry in combination with S&P Global's unparalleled access to upstream and downstream market intelligence and expert insights into industry dynamics, trade, and economics.
This report can help you
Identify trends and driving forces influencing chemical markets
Forecast and plan for future demand
Understand the impact of competing materials
Identify and evaluate potential customers and competitors
Evaluate producers
Track changing prices and trade movements
Analyze the impact of feedstocks, regulations, and other factors on chemical profitability