Published June 2022
Polyvinyl alcohol (PVOH) is a water-soluble polymer, sold in both fully and partially hydrolyzed forms. Its properties vary depending on molecular weight (degree of polymerization) and fraction of acetate groups that are removed (degree of hydrolysis).
PPVOH is used in diverse applications, including textiles for warp sizing, adhesives, polymerization aids, pigment binders for paper, and other such applications where PVOH is used "as is." Another major application involves converting PVOH to polyvinyl butyral, which is used as a coating to generate laminated safety glass for automotive and architectural applications. Global consumption of PVOH is forecast to grow at a rate of 4.7% from 2021 to 2026. Global demand is dominated by mainland China, which accounted for 39% of total demand in 2021. The end-use distribution for PVOH varies among the regions. Polymerization aids is the largest end use for PVOH in mainland China and polyvinyl butyral in the United States. Other Northeast Asian markets such as Japan will have much lower growth in demand compared with mainland China during 2021–26.
The following pie chart shows world consumption of polyvinyl alcohol: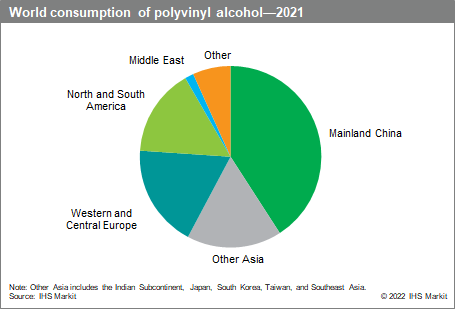 For more detailed information, see the table of contents, shown below.
S&P Global's Chemical Economics Handbook –Polyvinyl Alcohol is the comprehensive and trusted guide for anyone seeking information on this industry. This latest report details global and regional information, including

S&P Global's Chemical Economics Handbook –Polyvinyl Alcohol has been compiled using primary interviews with key suppliers and organizations, and leading representatives from the industry in combination with S&P Global's unparalleled access to upstream and downstream market intelligence and expert insights into industry dynamics, trade, and economics.
This report can help you:
Identify trends and driving forces influencing chemical markets
Forecast and plan for future demand
Understand the impact of competing materials
Identify and evaluate potential customers and competitors
Evaluate producers
Track changing prices and trade movements
Analyze the impact of feedstocks, regulations, and other factors on chemical profitability