Published August 2021
Polystyrene (PS) is a thermoplastic polymer of styrene known for its versatility in high heat resistance, solid chemical strength, and notable rigidity that can be molded into objects or made into a foam and used as thermal insulation. More than one-third of PS is used as a packaging material, so the heat resistance characteristic of PS is essential for hot-filled methods of food packaging. General-purpose polystyrene (GPPS) and high-impact polystyrene (HIPS) are the most commonly used PS resins for injection molding. GPPS is clear and brittle (e.g., compact disc cases), while HIPS is opaque and more durable. Polystyrene is also used to make a wide variety of consumer products, appliances, electronics, foam construction material (extruded polystyrene and XPS), automobile parts, toys, gardening accessories, and medical equipment. However, the controversial PS packaging market continues to be affected by negative consumer perception as environmental pressure deepens, leading converters to consider other alternatives to PS.
The following chart presents world consumption of polystyrene: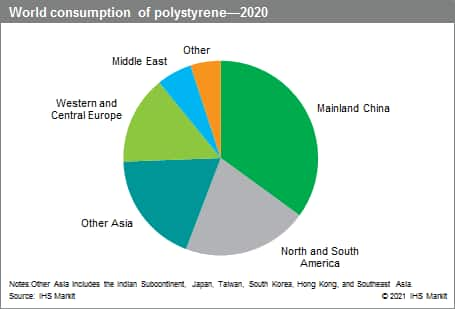 The global PS market has undeniably suffered from an oversupply of capacity and weakening demand growth over the last decade. To survive, PS producers responded by consolidating their capacity in many regions over the last few years through many mergers and acquisitions. Further rationalization is likely in the more mature markets, since domestic demand is generally weaker and their exports are limited by a lack of competitiveness.
Almost 40% of capacity has been removed over the years to improve operating rates and, consequently, support margin positions. In contrast, developing markets for polystyrene, such as the Middle East, Africa, and mainland China, are focusing on increasing market share; mainland China has been steadily expanding its PS capacity and now accounts for more than 25% of the global total in 2020.
Northeast Asia is the largest and most influential player in the global polystyrene market. In 2020, the region accounted for 45–50% of global polystyrene capacity and consumption. Mainland China dominates the polystyrene market in Northeast Asia, contributing over three-quarters of regional demand and nearly 90% of regional imports. Most Northeast Asian producers operate swing plants that provide the flexibility to switch between GPPS and HIPS production, allowing the producer to select the product with better demand or returns. However, standalone GPPS or HIPS plants have better cost efficiency owing to the production of fewer grades and, in turn, less downtime.
For more detailed information, see the table of contents, shown below.
S&P Global's Chemical Economics Handbook –Polystyrene is the comprehensive and trusted guide for anyone seeking information on this industry. This latest report details global and regional information, including

Key benefits
S&P Global's Chemical Economics Handbook –Polystyrene has been compiled using primary interviews with key suppliers and organizations, and leading representatives from the industry in combination with S&P Global's unparalleled access to upstream and downstream market intelligence and expert insights into industry dynamics, trade, and economics.
This report can help you
Identify trends and driving forces influencing chemical markets
Forecast and plan for future demand
Understand the impact of competing materials
Identify and evaluate potential customers and competitors
Evaluate producers
Track changing prices and trade movements
Analyze the impact of feedstocks, regulations, and other factors on chemical profitability