Published October 2022
Polyimides are unique, high-temperature polymers that command high prices. A number of types of polymers are available with imide linkages. Some polyimides have melting temperatures exceeding 300°C, making them suitable for use in highly demanding conditions. Leading markets are molding resins, wire enamels, films for electronics, fibers, advanced composites, coatings, foams, and adhesives. A number of companies make polyimides, with most concentrating on specific markets. For example, DuPont and PI Advanced Materials specialize in supplying electronic films; SABIC supplies polyetherimide (Ultem®) for molding resins and other markets; Evonik and Kermel supply polyimide fibers; and Solvay, Evonik, St. Gobain, and DuPont sell highly specialized polyimide molding resins.
All of these polymers have excellent electrical and physical properties in addition to their high thermal and oxidative stability. Because of this combination of properties, these polyimides are used in aerospace, electronics, and various other industrial applications. "Pure" polyimide resins (without alternating ester, amide, or ether linkages) are high-temperature-resistant polymers that retain a significant portion of their physical properties in short-term exposures at temperatures exceeding 500°C. Other polymers that contain imide linkages have thermal resistances over a wide range of temperatures of at least 200°C.
The following pie chart shows consumption of polyimides and other imide polymers by major region: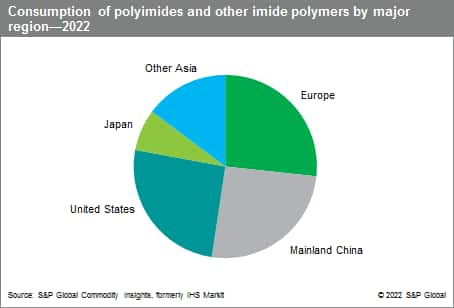 During the 2017–19, demand was particularly strong from the electrical/electronics market (including films and use in the aircraft, aerospace, and military markets among others). Automotive, aircraft/aerospace (particularly new commercial aircraft), and food service markets have also helped drive consumption of polyimides and imide polymers, as companies require products with properties such as higher service temperatures (i.e., increased thermal performance), greater toughness and flexibility, easier processing, and lighter weight (for fuel efficiency) at a reduced cost.
The major end markets were severely impacted by the COVID-19 pandemic in 2020. The aircraft industry, the major application within the cable and wire sector, lost around 50% of sales because of the lockdowns and travel restrictions. Demand into automotive uses was also down, when manufacturing plants were closed for weeks in 2020. Even though recovery had started in 2021, it will take a few years before pre-pandemic levels are achieved.
The fastest-growing market is expected to be electronics, as polyimide films are used to make flexible printed circuits for mobile phones and other devices. Transparent polyimide films are of interest to replace glass, to make flexible, lighter-weight flat panel displays, imaging sensors, solar cells, and other products. New colorless polyimide (CPI) film plants have been operating in South Korea since 2021; CPI is expected to be used in the new generation of foldable mobile phones.
Even though the molding resins market has been heavily impacted by the COVID-19 pandemic, it is believed to have still have growth potential, where polyimides and other high-temperature polymers continue to displace traditional materials of construction, like metals. Polyimides have the advantage of high flame retardancy, so they have been used for a number of years in aircraft interiors.
For more detailed information, see the table of contents, shown below.
S&P Global's Chemical Economics Handbook – Polyimides and Other Imide Polymers is the comprehensive and trusted guide for anyone seeking information on this industry. This latest report details global and regional information, including
Key Benefits
S&P Global's Chemical Economics Handbook – Polyimides and Other Imide Polymers has been compiled using primary interviews with key suppliers and organizations, and leading representatives from the industry in combination with S&P Global's unparalleled access to upstream and downstream market intelligence and expert insights into industry dynamics, trade, and economics.
This report can help you
Identify trends and driving forces influencing chemical markets
Forecast and plan for future demand
Understand the impact of competing materials
Identify and evaluate potential customers and competitors
Evaluate producers
Track changing prices and trade movements
Analyze the impact of feedstocks, regulations, and other factors on chemical profitability