Published February 2022
Polybutadiene elastomers (PBR) are the second-largest-volume synthetic rubber produced, behind styrenebutadiene elastomer (SBR). Vulcanized PBR exhibits high resilience (the ability to recover size and shape after stress), abrasion resistance, and resistance to cut growth (growth in the size of an initial cut in the cured rubber), making it an ideal elastomer for the manufacture of tires, PBR's largest market. Use as an impact modifier for ABS and high-impact polystyrene is the next-largest market. PBR is also incorporated with other materials to make various automotive parts (hoses and belts), industrial products (conveyor belts), and a few consumer products (for example, golf ball centers). Overall, tires and tire products remain the most important end use for polybutadiene elastomers and are estimated to have accounted, on average, for about 80% of total consumption in 2021.
The following pie chart shows world consumption of polybutadiene elastomers: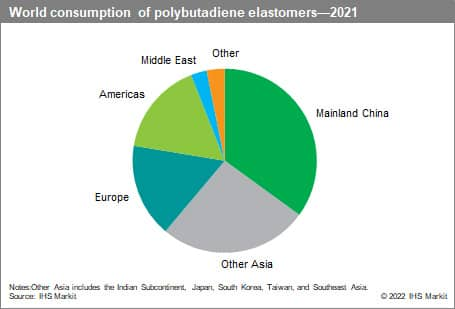 Global consumption of polybutadiene elastomers grew at an average annual rate of about 1.5% from 2016 to 2021. During the same period, world nameplate capacity for polybutadiene elastomers declined. This shows that the gap between supply/capacity and actual demand has widened significantly. Most of this overbuild is due to the large amount of new capacity brought onstream in mainland China in the last couple of years.
For more detailed information, see the table of contents, shown below.
S&P Global's Chemical Economics Handbook – Polybutadiene Elastomers is the comprehensive and trusted guide for anyone seeking information on this industry. This latest report details global and regional information, including
Key Benefits
S&P Global's Chemical Economics Handbook – Polybutadiene Elastomers has been compiled using primary interviews with key suppliers, organizations and leading representatives from the industry in combination with S&P Global's unparalleled access to upstream and downstream market intelligence, expert insights into industry dynamics, trade and economics.
This report can help you:
Identify trends and driving forces influencing chemical markets
Forecast and plan for future demand
Understand the impact of competing materials
Identify and evaluate potential customers and competitors
Evaluate producers
Track changing prices and trade movements
Analyze the impact of feedstocks, regulations, and other factors on chemical profitability