Polyamide Elastomers Market Outlook, Supply & Demand, and Forecasts
Published January 2021
Thermoplastic polyamide elastomers (PAE, TPA, TPE-A, PEBA, COPA) are high-performance thermoplastic elastomer (TPE) block copolymers, based on nylon and polyethers or polyesters. PAEs consist of alternating hard and soft segments joined by amide linkages. They are used mainly in areas where other thermoplastic elastomers cannot compete or perform, especially at lower temperature. Moreover, PAEs can be processed by the usual melt-processing techniques, such as injection molding, extrusion, blow molding, rotational molding, and thermoforming. PAEs have unique properties of energy return, are lightweight, elastic, and flexible, and impart great impact resistance. This report focuses on thermoplastic polyamide elastomers, block copolymers, and does not include blended materials.
The following pie chart shows world consumption of thermoplastic polyamide elastomers: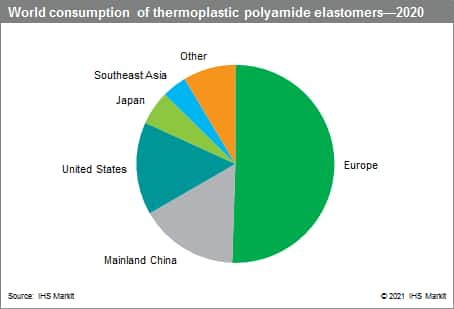 The major applications of thermoplastic polyamide elastomers include use in sporting/leisure goods (i.e., winter sports and high-end athletic and running shoes) and equipment, automotive parts/components, hydraulic and pneumatic equipment, some polymer modification, wire and cable jacketing and tubing, other electrical/electronic uses, medical applications, and miscellaneous consumer product parts.
World consumption of thermoplastic polyamide elastomers is forecast to grow at an average rate of close to 5% per year during 2020–25. This larger-than-expected growth rate is due to a depressed base year of 2020, as the COVID-19 pandemic had a dramatic impact on most of the applications for PAEs (medical applications are believed to have fared well during 2020).
For more detailed information, see the table of contents, shown below.
S&P Global's Chemical Economics Handbook – Polyamide Elastomers, Thermoplastic is the comprehensive and trusted guide for anyone seeking information on this industry. This latest report details global and regional information, including
Key Benefits
S&P Global's Chemical Economics Handbook – Polyamide Elastomers, Thermoplastic has been compiled using primary interviews with key suppliers and organizations, and leading representatives from the industry in combination with S&P Global's unparalleled access to upstream and downstream market intelligence and expert insights into industry dynamics, trade, and economics.
This report can help you
Identify trends and driving forces influencing chemical markets
Forecast and plan for future demand
Understand the impact of competing materials
Identify and evaluate potential customers and competitors
Evaluate producers
Track changing prices and trade movements
Analyze the impact of feedstocks, regulations, and other factors on chemical profitability