Published April 2022
Polyacetal resins, also known as acetal or polyoxymethylene (POM) resins, are important engineering resins with exceptional wear resistance and excellent chemical, thermal, electrical, and mechanical properties; as a result, they have replaced metals and other plastics in wear-critical applications. While one of the oldest engineering thermoplastics, polyacetal resins continue to be successful substitutes in traditional metal markets, at costs that are lower than those of many other engineering thermoplastics. Polyacetal resins continue to replace die-cast zinc, brass, aluminum, steel, and other metals in various end-use applications.
The following pie chart shows world consumption of polyacetal resins: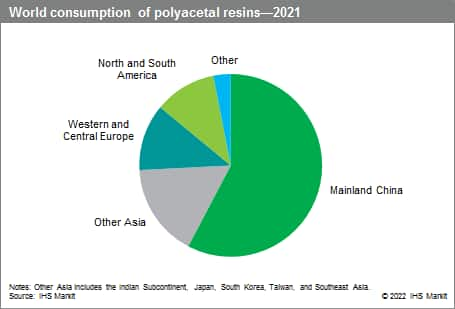 The automotive, industrial, and consumer/appliance sectors are the major end users of POM; together, they account for approximately three-fourths of the global consumption in 2021. Other uses include industrial applications, plumbing, sheets/rods/tubes, and medical products (pacemakers, artificial heart valves, etc.). Over the past five years, consumption of polyacetal resins has grown, with the major growth coming from Asia, driven primarily by consumption in consumer articles/appliances, electrical, and automotive applications.
For more detailed information, see the table of contents, shown below.
S&P Global's Chemical Economics Handbook – Polyacetal Resins is the comprehensive and trusted guide for anyone seeking information on this industry. This latest report details global and regional information, including

Key Benefits
S&P Global's Chemical Economics Handbook – Polyacetal Resins has been compiled using primary interviews with key suppliers and organizations, and leading representatives from the industry in combination with S&P Global's unparalleled access to upstream and downstream market intelligence and expert insights into industry dynamics, trade, and economics.
This report can help you
Identify trends and driving forces influencing chemical markets
Forecast and plan for future demand
Understand the impact of competing materials
Identify and evaluate potential customers and competitors
Evaluate producers
Track changing prices and trade movements
Analyze the impact of feedstocks, regulations, and other factors on chemical profitability