Published November 2020
Elemental phosphorus (P4) is the starting material for phosphorus-containing chemicals used in a wide range of industrial markets. The most important chemicals derived directly from P4 are phosphorus trichloride (PCl3), phosphorus pentasulfide, phosphorus pentoxide, and sodium hypophosphite, a relatively small-volume chemical used primarily in electroless nickel plating solutions. Phosphorus trichloride, phosphorus pentasulfide, and phosphorus pentoxide are the building blocks for a large number of derivative inorganic and organic chemicals, which in turn are used in a wide variety of high-value specialized applications.
There has been significant rationalization in the phosphorus industry during the past 30 years, largely because of the diminishing use of sodium phosphates in home laundry detergent powders. The phosphorus industry has undergone a dramatic shift away from Western countries to Asian countries during this period, as a result of changes in technology and the increasing cost of electricity. The development of capacity to produce technical-grade phosphoric acid from wet agricultural acid has also resulted in the loss of market share for thermal acid, which is produced from elemental phosphorus. The decline in elemental phosphorus demand resulted in significant capacity decreases in both Europe and North America; Japan ceased yellow phosphorus production entirely in 1987. In contrast, mainland China's elemental phosphorus capacity has increased rapidly and currently accounts for more than 80% of the global capacity.
The following pie chart shows world consumption of elemental phosphorus: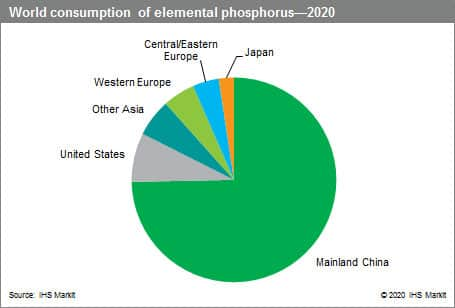 The production of thermal phosphoric acid remains the largest market for elemental phosphorus. In most regions, industrial phosphates are now made from purified wet phosphoric acid. However, as mainland China lacks technology for purified wet phosphoric acid, most industrial phosphates are still made there from thermal acid.
After thermal phosphoric acid, phosphorus trichloride is the largest chemical market for elemental phosphorus. Mainland China is again the largest consumer, accounting for more than two-thirds of the global market. Glyphosate and other pesticide intermediates are by far the largest market for phosphorus trichloride in mainland China; about 80% of the glyphosate produced in mainland China is destined for the export market.
In 2020, the thermal acid market was particularly hard hit by the economic downturn resulting from the COVID-19 pandemic. Overall, global consumption of phosphorus chemicals is expected to recover at about 1–2% per year over the forecast period 2020–25. However, the downward trend for thermal phosphoric acid is expected to continue.
For more detailed information, see the table of contents, shown below.
S&P Global's Chemical Economics Handbook –Phosphorus and Phosphorus Chemicals is the comprehensive and trusted guide for anyone seeking information on this industry. This latest report details global and regional information, including

Key benefits
S&P Global's Chemical Economics Handbook –Phosphorus and Phosphorus Chemicals has been compiled using primary interviews with key suppliers and organizations, and leading representatives from the industry in combination with S&P Global's unparalleled access to upstream and downstream market intelligence and expert insights into industry dynamics, trade, and economics.
This report can help you
Identify trends and driving forces influencing chemical markets
Forecast and plan for future demand
Understand the impact of competing materials
Identify and evaluate potential customers and competitors
Evaluate producers
Track changing prices and trade movements
Analyze the impact of feedstocks, regulations, and other factors on chemical profitability