Published August 2020
The main product categories covered in this report are organotins, organoaluminums, organomagnesiums, and organolithiums.
Nonbiocidal organotins are used largely as additives for polyvinyl chloride (PVC), but also in catalysis of several products, including rigid polyurethanes and silicones. Biocidal organotins are used in agriculture as fungicides and miticides, and as preservatives/antifoulants on wood surfaces, in closed-circuit cooling towers, and in marine paints.
Organoaluminums are used primarily as catalysts for the synthesis of polymers, including polypropylene, polyethylene, and several elastomers. Use as a catalyst for other syntheses includes olefin oligomerization and the Dimersol process for gasoline production.
Organomagnesiums are used as catalysts for polyolefin production and in the synthesis of pharmaceutical and fine chemicals. Organolithiums are used as catalysts for polybutadiene elastomer production and in the synthesis of pharmaceuticals.
The following pie chart shows merchant consumption of organometallics by major region, based on value: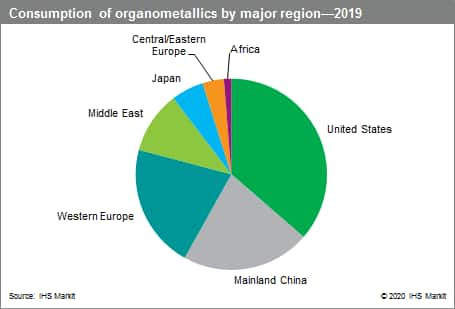 The overall business environment for organometallics includes the following characteristics:
Greater regulations and restrictions (e.g., tributyltins in markets such as biocides/paint and PVC stabilizers). Because of stricter environmental demands, organotin antifoulants have been phased out and replaced by copper-based or other alternatives.
Volatile raw materials (metals) costs, along with processing cost fluctuations, adversely affect the development of markets for some organometallics in certain applications (e.g., organotin stabilizers).
The rapid expansion and maturation of the LED and solar cell markets has hastened demand for high-purity organometallics for use in metal organic chemical vapor deposition and other thin-film applications.
Polyvinyl chloride additive applications remain the main markets for organotins, especially in mainland China and the United States.
Catalyst applications remain the main markets for organoaluminums, organomagnesiums, and organolithiums.
Organotins are the largest-volume products followed by the organoaluminums. Combined, the two account for more than 97% of the total volume and more than 90% of the total value of the global organometallics market. Mainland China is the largest consumer of organotins for PVC applications, while both China and the United States are nearly equal biocidal consumers. In organoaluminums, the United States remains the largest consumer, followed by mainland China, Western Europe, and the Middle East.

The US market for organotins, which is tied to the construction, housing, and home remodeling markets, has slowed recently, following years of recovery since the economic crisis in 2009. In 2020, the recession, compounded by temporary construction holds imposed due to COVID-19, led to declines for PVC and organotins.
The largest share of the organometallic market in Western Europe is accounted for by organotins (47%) and organoaluminums (44%). The commercial consumption of these organometallics in other regions (Central and Eastern Europe, the Middle East, and Africa) is relatively small. Western Europe had been the only producing area in the region, until 2013, when organoaluminum production began in the Middle East, to supply the region's growing polyolefin production.
The development of mainland China's organometallics market has been intrinsically tied to the country's strong economic growth and the rapid expansion of the plastics industry. An insatiable buildup of capacity for PVC, polyethylene, and other resins hastened an equal need for sufficient supplies of organometallics. In 2019, mainland China accounted for nearly half of estimated global consumption of organotins and more than 20% of global consumption of organoaluminums, driven by growing production of PVC and polyolefins.
Japanese consumption of diorganotins for the PVC stabilizer market has remained at about the same level for the last five years; consumption of triorganotins ceased in 1999 as a result of environmental legislation. Organoaluminum consumption has been decreasing because of improved performance of organoaluminum catalysts and a general decline in polyolefin production. Overall, Japanese consumption of organometallics will be flat to declining over the next five years.
For more detailed information, see the table of contents, shown below.
S&P Global's Chemical Economics Handbook –Organometallics is the comprehensive and trusted guide for anyone seeking information on this industry. This latest report details global and regional information, including

Key benefits
S&P Global's Chemical Economics Handbook –Organometallics has been compiled using primary interviews with key suppliers and organizations, and leading representatives from the industry in combination with S&P Global's unparalleled access to upstream and downstream market intelligence and expert insights into industry dynamics, trade, and economics.
This report can help you
Identify trends and driving forces influencing chemical markets
Forecast and plan for future demand
Understand the impact of competing materials
Identify and evaluate potential customers and competitors
Evaluate producers
Track changing prices and trade movements
Analyze the impact of feedstocks, regulations, and other factors on chemical profitability