Published November 2022
Nylons constitute a family of resins, the most important of which are nylon 6 and nylon 66. Nylon 6 and nylon 66 are the most successful and highest-volume members of the nylon family and are the focus of this market analysis. End-use applications for nylons fall into two broad categories: fibers and engineering resins. Fiber production from spinning processes yields end-use applications in clothing, carpets, tire cord, and others. Nylon (or engineering) resins are found in diverse uses, including automotive and appliance components, electrical power distribution, and a wide variety of consumer goods and packaging film.
The following pie charts show world consumption of nylon 6 and nylon 66: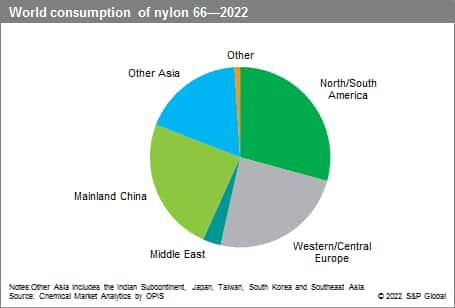 North America and Western Europe are important nylon resin consumers, but both regions are growing at below-average rates. Mainland China is the major global producer and consumer of nylon 6 and the third-largest producer and consumer of nylon 66; however, consumption is still largely for nylon fibers.
For more detailed information, see the table of contents, shown below.
S&P Global's Chemical Economics Handbook – Nylon Resins is the comprehensive and trusted guide for anyone seeking information on this industry. This latest report details global and regional information, including
Key Benefits
S&P Global's Chemical Economics Handbook – Nylon Resins has been compiled using primary interviews with key suppliers and organizations, and leading representatives from the industry in combination with S&P Global's unparalleled access to upstream and downstream market intelligence and expert insights into industry dynamics, trade, and economics.
This report can help you
Identify trends and driving forces influencing chemical markets
Forecast and plan for future demand
Understand the impact of competing materials
Identify and evaluate potential customers and competitors
Evaluate producers
Track changing prices and trade movements
Analyze the impact of feedstocks, regulations, and other factors on chemical profitability