Fertilizers are substances that can be in a solid, liquid, or gaseous state and contain one or more plant nutrients. They can be applied to the soil, or directly on the plant to maintain or increase fertility to produce crops with good quality. They supplement naturally available nutrients in the soil and also provide additional nutrients that are required for specific types of crops.
A distinct advantage of compounded NPK fertilizers is that they can be formulated based on the type of crop and soil. The fact that they are compounded enables them to be less soluble in groundwater. This makes them suitable for dry soil matrices and areas prone to droughts. NPK is typically used for sugar beets, sunflower, and buckwheat during the autumn and for corn, wheat, barley, and vegetable crops during spring. Fertilizer products can be used in various physical and chemical forms. Based on its state, each form has its own advantages and limitations.
The following chart shows world consumption of NPK compound fertilizers: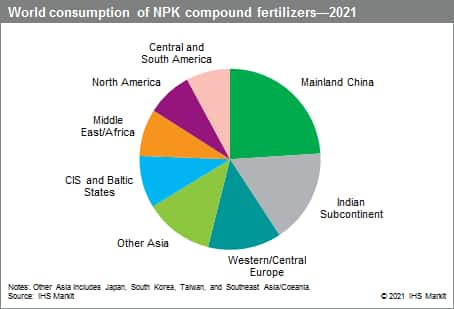 Mainland China has become the world's largest producer and consumer of NPK compound fertilizers. Over 3,000 companies produce NPK compound fertilizers in mainland China, with a total capacity of about 173.5 million metric tons in 2021. Most of the consumption growth will be in Africa (albeit from a small base), the CIS and Baltic States, the Middle East, and Southeast Asia/Oceania.
The products covered in this report are the following:
NPK fertilizers typically contain at least 3% N plus 5% P2O5 plus 5% K2O and at least 20% total nutrients. Nutrient ratios are provided for NPK fertilizers, such as 1:1:1. If there are additional numbers, it would refer to magnesium and then sulfur. Since each granule of these fertilizers contains the same proportion of nutrients, application to the soil can be simple.
NP fertilizers have a minimum of 3% N and 5% P2O5 and at least 18% of total nutrients. These products are applied where the soil is already rich in potassium content or where potash can be applied as a standalone fertilizer.
NitroP fertilizers are made by reacting nitric acid with phosphate compounds. As it does not use sulfuric acid, there is no unwanted gypsum waste.
Compound fertilizers contain two or more nutrients and are also known as multinutrient fertilizers. A complex fertilizer refers to a compound fertilizer formed by combining ingredients to react chemically. Compound fertilizers can also be produced by blending two or more granular fertilizers of similar size. Such products retain the physical and chemical characteristics of individual compounds. They are made by mixing basic fertilizers derived from ammonia with salts containing phosphorus or potassium.
Demand for fertilizers is driven by the need for food, which in turn is driven by the size and wealth of the population. The global population has doubled from about 3 billion in the early 1960s to around 6 billion by the turn of this century. Between now and 2050, the population is expected to increase by another 3 billion, equivalent to the current combined population of mainland China and South Asia. Feeding a population of 9 billion people in 2050 will involve a combination of several developments, including relying on increased plant nutrition, new technologies, and the cultivation of more marginal land. Food production has increased substantially over the past several decades, in part because of increasing yields as a result of fertilizer application.
For more detailed information, see the table of contents, shown below.
S&P Global's Chemical Economics Handbook –NPK Compound Fertilizers is the comprehensive and trusted guide for anyone seeking information on this industry. This latest report details global and regional information, including

Key benefits
S&P Global's Chemical Economics Handbook –NPK Compound Fertilizers has been compiled using primary interviews with key suppliers and organizations, and leading representatives from the industry in combination with S&P Global's unparalleled access to upstream and downstream market intelligence and expert insights into industry dynamics, trade, and economics.
This report can help you
Identify trends and driving forces influencing chemical markets
Forecast and plan for future demand
Understand the impact of competing materials
Identify and evaluate potential customers and competitors
Evaluate producers
Track changing prices and trade movements
Analyze the impact of feedstocks, regulations, and other factors on chemical profitability