Published October 2022
Nitrogen solutions are water solutions of selected nitrogen chemicals that are blended rather than being the products of chemical reaction. Nitrogen solutions are used almost exclusively as fertilizer materials, and urea– ammonium nitrate (UAN) solutions, containing 28–32% nitrogen, account for the bulk of the market. Global consumption is concentrated in North America, especially the United States, and Western Europe.
The following chart shows consumption of nitrogen solutions by major region: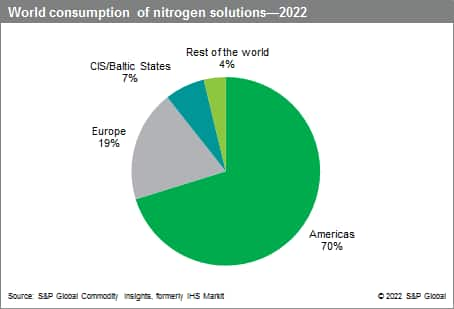 Fertilizer use of nitrogen solutions is largely confined to countries that have highly developed agricultural economies, where the use of irrigation is common and transportation logistics allow for the distribution of liquid products. Very little consumption occurs in the developing regions of the world, as consumers are accustomed to using dry products and logistics prohibit economical transportation. Nitrogen solutions account for only about 6% of the total global nitrogen fertilizer market.
Global consumption of nitrogen solutions will continue to grow moderately during the forecast period, driven primarily by the markets in North America, particularly the United States. The United States has been enjoying the benefits associated with the increasing production of unconventional natural gas from shale-based resources since 2010. This, coupled with the declining prices of crude oil, resulted in dramatic increases in infrastructure investments to take advantage of reduced raw material costs, especially within the nitrogenous fertilizer industry.
This report provides an excellent insight into the global market for nitrogen solutions, as well as the major urea–ammonium nitrate (UAN) solutions producers associated with the production of such fertilizers. It has been compiled using primary industry research and brings together elements of other fertilizers-related reports in IHS Markit's Chemical Economics Handbook (CEH).
For more detailed information, please see the table of contents listed below.
S&P Global's Chemical Economics Handbook -Nitrogen solutions s is the comprehensive and trusted guide for anyone seeking information into this industry. This latest report details global and regional information, including:

Key benefits
S&P Global's Chemical Economics Handbook –Nitrogen solutions has been compiled using primary interviews with key suppliers and organizations, and leading representatives from the industry in combination with IHS Markit's unparalleled access to upstream and downstream market intelligence and expert insights into industry dynamics, trade, and economics.
This report can help you:
Identify trends and driving forces influencing chemical markets
Forecast and plan for future demand
Understand the impact of competing materials
Identify and evaluate potential customers and competitors
Evaluate producers
Track changing prices and trade movements
Analyze the impact of feedstocks, regulations, and other factors on chemical profitability