Published April 2022
This report focuses on the global market for the major nitrile elastomers. It discusses the following three nitrile elastomers:
Nitrile butadiene rubber (solid NBR rubber)
Nitrile butadiene latex (NBR latex)
Hydrogenated NBR (HNBR)
In their simplest form, nitrile elastomers are copolymers of an unsaturated nitrile (acrylonitrile) and a conjugated diene (usually butadiene). Nitrile rubber has the distinctive feature of high resistance to oils (aliphatic hydrocarbons) over a wide temperature range. Nitrile butadiene rubber (NBR) is also noted for high strength and excellent resistance to abrasion, water, alcohols, and heat. Disadvantages include poor dielectric properties and poor resistance to ozone and strong oxidants.
The following pie charts show world consumption of NBR solid and NBR latex.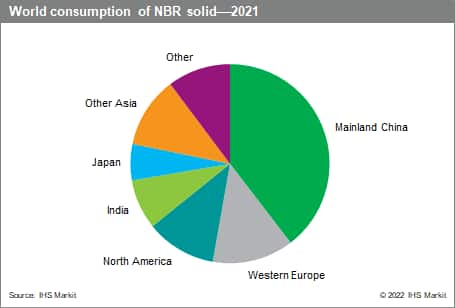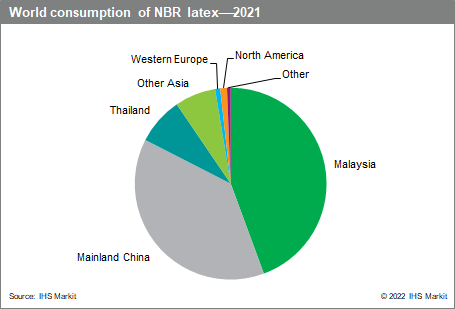 Solid NBR is mainly used to make oil-resistant industrial goods, such as hoses, tubing, and seals, which are mainly used in the automotive industry.
The market for HNBR is small and concentrated mainly in the United States, Europe, mainland China, and Japan.
The most dramatic growth for NBR latex consumption has been seen in Malaysia and mainland China, especially during the COVID-19 pandemic. NBR latex is mainly consumed for the production of nitrile rubber gloves (close to 100% of demand).
Global consumption of solid NBR, HNBR and NBR latex are forecast to continue increasing during the next five years. NBR latex will grow the fastest owing to increases in the global production of nitrile gloves.
For more detailed information, see the table of contents, shown below.
S&P Global Chemical Economics Handbook – Nitrile Elastomers is the comprehensive and trusted guide for anyone seeking information on this industry. This latest report details global and regional information, including

Key Benefits
S&P Global's Chemical Economics Handbook – Nitrile Elastomers has been compiled using primary interviews with key suppliers, organizations and leading representatives from the industry in combination with S&P Global's unparalleled access to upstream and downstream market intelligence, expert insights into industry dynamics, trade and economics.
This report can help you:
Identify trends and driving forces influencing chemical markets
Forecast and plan for future demand
Understand the impact of competing materials
Identify and evaluate potential customers and competitors
Evaluate producers
Track changing prices and trade movements
Analyze the impact of feedstocks, regulations, and other factors on chemical profitability