Published December 2022
The neopentyl polyhydric alcohols discussed in this report include pentaerythritol, neopentyl glycol, trimethylolpropane, trimethylolethane, and dimethylolpropionic acid.
Approximately 70% of neopentyl polyhydric alcohols are used for coating resins. There is also major use in neopolyol esters for lubricants and demand for unsaturated polyester resins. These downstream markets are mainly found in major industries such as construction and remodeling activity, automotive production, and original equipment manufacture. As a result, demand for neopentyl polyhydric alcohols is greatly impacted by general economic conditions.
The following pie chart shows world consumption of neopentyl polyhydric alcohols by region: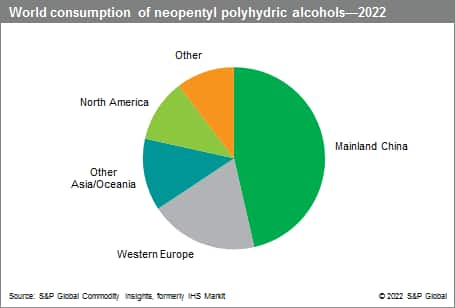 Mainland China, Europe, and the United States are the largest markets for neopentyl polyhydric alcohols (NPA), accounting for nearly 75% of world consumption in 2022. World consumption of neopentyl polyhydric alcohols grew at an average annual rate of 4% during 2016–19 as a result of relatively strong growth in consuming industries such as automotive and construction. Demand decreased in 2020, but the market started to rebound strongly toward the end of the year and through 2021. A combination of strong demand and supply disruption led to tightness in the market, especially that of NPG. As of September 2022, the market is becoming longer. In Western countries, particularly in Europe, demand might remain stagnant in the short term because of high energy prices and recession sentiments. Overall world consumption is forecast to grow at an average annual rate of 3–4% during 2022–27. Consumption of pentaerythritol and NPG in mainland China will be the driver of this growth. Because new NPA capacity is already underway, the market is expected to remain amply supplied through 2027. However, the availability of NPG's raw material isobutyraldehyde remains a potential issue.
For more detailed information, see the table of contents, shown below.
S&P Global's Chemical Economics Handbook –Neopentyl Polyhydric Alcohols is the comprehensive and trusted guide for anyone seeking information on this industry. This latest report details global and regional information, including

Key benefits
S&P Global's Chemical Economics Handbook –Neopentyl Polyhydric Alcohols has been compiled using primary interviews with key suppliers and organizations, and leading representatives from the industry in combination with S&P Global's unparalleled access to upstream and downstream market intelligence and expert insights into industry dynamics, trade, and economics.
This report can help you
Identify trends and driving forces influencing chemical markets
Forecast and plan for future demand
Understand the impact of competing materials
Identify and evaluate potential customers and competitors
Evaluate producers
Track changing prices and trade movements
Analyze the impact of feedstocks, regulations, and other factors on chemical profitability