Published June 2021
Natural fatty acids and its derivatives are consumed in a wide variety of industries. In consumer sectors (cosmetics, personal care, household care, and detergents), demand growth is driven by consumer trends, with increasing focus on sustainability and the shift to mild, sulfate-free product formulations. Demand growth in industrial sectors (oil and gas drilling, rubber, plastics, and mining) is often a good indicator of the overall economic performance of a region.
Mainland China, Western Europe, and North America are the major consuming markets. The historical growth in the consumption of fatty acids has approximated GDP growth in the regions of their consumption. All the major markets are experiencing increasing imports from Indonesia and Malaysia, the world's production hubs and exporters of fatty acids.
The following chart shows world consumption of natural fatty acids: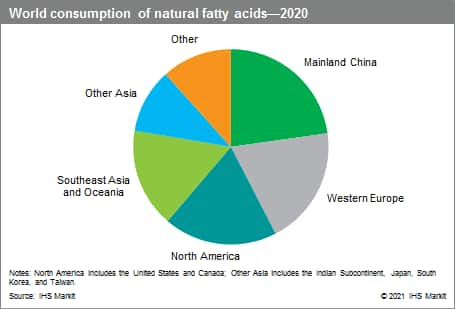 Corporate activity in the natural fatty acids industry remains dynamic, with many divestments, acquisitions, joint ventures, and investments announced since 2018, as organizations try to meet the challenges of volatile feedstock, cyclical market demand, emerging applications, new capacity expansions, and sustainability targets.
This report provides an excellent insight into the global market for natural fatty acids and derivatives, as well as the major raw materials (tallow, crude tall oil, palm oil, palm kernel oil, coconut oil, and soybean oil) associated with the production of fatty acids. It has been compiled using primary industry research and brings together elements of other S&P Global reports in the Chemical Economics Handbook (CEH) and Specialty Chemicals Update Program (SCUP) related reports.
For more detailed information, see the table of contents, shown below.
S&P Global's Chemical Economics Handbook – Natural Fatty Acids is the comprehensive and trusted guide for anyone seeking information on this industry. This latest report details global and regional information, including

Key benefits
S&P Global's Chemical Economics Handbook – Natural Fatty Acids has been compiled using primary interviews with key suppliers and organizations, and leading representatives from the industry in combination with S&P Global's unparalleled access to upstream and downstream market intelligence and expert insights into industry dynamics, trade, and economics.
This report can help you
Identify trends and driving forces influencing chemical markets
Forecast and plan for future demand
Understand the impact of competing materials
Identify and evaluate potential customers and competitors
Evaluate producers
Track changing prices and trade movements
Analyze the impact of feedstocks, regulations, and other factors on chemical profitability