Published December 2021
Monochloroacetic acid (MCA) is one of the most important halogenated derivatives of acetic acid. MCA is a reactive compound that can undergo various reactions to form a number of intermediates. Markets for MCA and derivatives include drilling fluids, plastics stabilizers, herbicides, surfactants, and pharmaceuticals.
The MCA market will continue to be driven by the mainland Chinese market. Mainland China currently accounts for the majority of global MCA consumption, and strong average annual growth is expected as relatively strong downstream demand MCA continues.
The following pie chart shows world consumption of MCA for selected regions: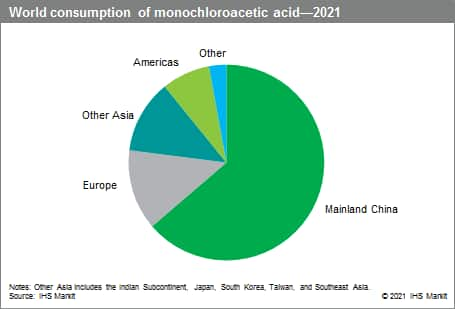 This report provides an excellent insight into the global market for monochloroacetic acid, as well as the major derivatives such as carboxymethylcellulose (CMC) and herbicides such as 2,4-dichlorophenoxyacetic acid (2,4-D), 2-methyl-4-chlorophenoxyacetic acid (MCPA), and other chlorinated herbicides. MCA use for glycine production makes up the third-largest market, nearly all of which is consumed in mainland China for the production of glyphosate.
For more detailed information, see the table of contents, shown below.
S&P Global's Chemical Economics Handbook – Monochloroacetic Acid is the comprehensive and trusted guide for anyone seeking information on this industry. This latest report details global and regional information, including
Key Benefits
S&P Global's Chemical Economics Handbook – Monochloroacetic Acid has been compiled using primary interviews with key suppliers and organizations, and leading representatives from the industry in combination with S&P Global's unparalleled access to upstream and downstream market intelligence and expert insights into industry dynamics, trade, and economics.
This report can help you
Identify trends and driving forces influencing chemical markets
Forecast and plan for future demand
Understand the impact of competing materials
Identify and evaluate potential customers and competitors
Evaluate producers
Track changing prices and trade movements
Analyze the impact of feedstocks, regulations, and other factors on chemical profitability