Published September 2021
Liquid crystal polymers (LCPs) are a highly versatile group of high-performance thermoplastics. The electronics/electrical industry accounts for more than 80% of global demand for LCPs. The major electronic/electrical markets for LCPs are in connectors for surface-mount technology (SMT connectors) and other electronic device components, such as motors, switches, bobbins, stators, chip carriers, coil forms, sockets, capacitor and protective housings, and printed circuit boards (PCBs). Growth is also attributed to the continued expansion of the electrical and electronics industry in electrical packaging. LCPs can also be used in electronic components for robots, satellites, high-density circuit boards for missiles and weaponry, digital cameras, copiers and printers, high-end headphones, and virtual reality headsets. The remaining demand for LCPs is for industrial and automotive applications, as well as uses in medical, aerospace, military, and cookware/bakeware.
The following chart presents world consumption of liquid crystal polymers: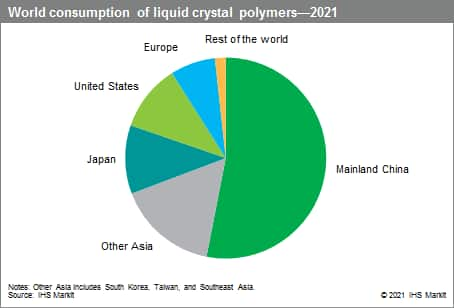 LCPs compete with other high-performance thermoplastics and engineering resins, including polyphenylene sulfide (PPS), polyphthalamide (PPA), polycyclohexylenedimethylene terephthalate (PCT), and certain specialty nylons. LCPs can replace such materials as ceramics, metals, composites, and other plastics because of their outstanding strength at very extreme temperatures and resistance to almost all chemicals, weathering, radiation, and burning. (On a pound-for-pound basis, LCPs are stronger than steel but only 15% as stiff.)
Asia dominates worldwide demand for LCPs; mainland China is the largest consumer, accounting for more than half of global consumption in 2021. Although the current global operating rate for LCPs is low, mainland China plans to expand LCP neat resin capacity by more than 10% per year during the forecast period. The global LCP market is expected to grow at an average annual rate of about 5% during 2021–26. Flexible printed circuit board applications, connectors and antennas in smartphones, and the shift to 5G networks are expected to be the main drivers for liquid crystal polymer consumption in the future.
For more detailed information, see the table of contents, shown below.
S&P Global's Chemical Economics Handbook – Liquid Crystal Polymers is the comprehensive and trusted guide for anyone seeking information on this industry. This latest report details global and regional information, including
Key Benefits
S&P Global's Chemical Economics Handbook – Liquid Crystal Polymers has been compiled using primary interviews with key suppliers and organizations, and leading representatives from the industry in combination with S&P Global's unparalleled access to upstream and downstream market intelligence and expert insights into industry dynamics, trade, and economics.
This report can help you
Identify trends and driving forces influencing chemical markets
Forecast and plan for future demand
Understand the impact of competing materials
Identify and evaluate potential customers and competitors
Evaluate producers
Track changing prices and trade movements
Analyze the impact of feedstocks, regulations, and other factors on chemical profitability