Published April 2023
World consumption of linear alpha-olefins (LAOs) is forecast to grow at an average annual rate of 3.5% during 2022–27, driven mostly by North America on a volume basis (which has a low-cost ethylene feedstock advantage) and mainland China (which plans to supply its polyethylene and polyalphaolefin demand with more domestically produced product, as it tries to reduce its dependence on imports). Forecasts of growth rates vary significantly by region and by LAO cut. Polyethylene comonomer (HDPE, LLDPE and plastomers/elastomers) is the major LAO consuming market, followed by polyalphaolefins and detergent alcohols. Companies have invested in both full-range LAO plants (where a broad range of even-numbered carbon chain-length LAOs, rather than a single product, are produced) and in on-purpose technology (where production focuses on one or two specific monomers) in recent years. Given the diverse markets that LAOs serve and their importance in the global economy, world capacity is forecast to grow at an average annual rate of approximately 5% during 2022–27.
The following pie chart shows world consumption of linear alpha-olefins by major region: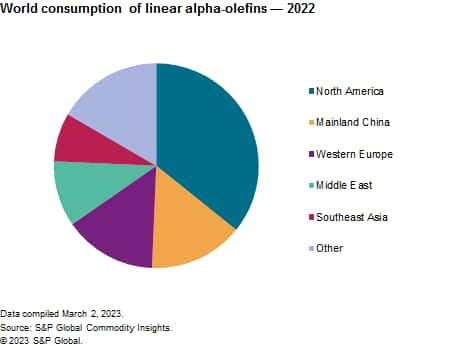 Global consumption of LAO, driven by polyethylene comonomers, detergent-range alcohols (based on linear alpha- and internal olefins), polyalphaolefins, oil field chemicals, and surfactants, grew at an average annual of rate of 4.5% during 2019–22.
In 2022, North America accounted for approximately 44% of the world production of LAO, followed by the Middle East (16%), mainland China (13%), and Western Europe (10%). Other Asia, Africa, Central and Eastern Europe, and Central and South America accounted for the remaining 17%. The world's two largest producers of LAOs have a combined capacity share of 50% (excluding butene-1 from raffinate). By 2027, these two producers will likely hold on to the top spots, but there will be some reshuffling of the other top five.
This report provides an excellent insight into the global market for linear alpha-olefins as well as their major derivatives. It has been compiled using primary industry research and brings together elements of other S&P Global reports in the Chemical Economics Handbook (CEH) and Specialty Chemicals Update Program (SCUP) suite of surfactant-related reports.
For more detailed information, see the table of contents, shown below.
S&P Global's Chemical Economics Handbook - Linear alpha-Olefins is the comprehensive and trusted guide for anyone seeking information on this industry. This latest report details global and regional information, including

Key benefits
S&P Global's Chemical Economics Handbook - Linear alpha-Olefins has been compiled using primary interviews with key suppliers and organizations, and leading representatives from the industry in combination with S&P Global's unparalleled access to upstream and downstream market intelligence and expert insights into industry dynamics, trade, and economics.
This report can help you
Identify trends and driving forces influencing chemical markets
Forecast and plan for future demand
Understand the impact of competing materials
Identify and evaluate potential customers and competitors
Evaluate producers
Track changing prices and trade movements
Analyze the impact of feedstocks, regulations, and other factors on chemical profitability