Published July 2022
This report covers supply and demand for a number of industrially important potassium chemicals: potassium metal and potassium hydroxide, sulfate, nitrate, carbonate, and bicarbonate. Industrial consumption of potassium chloride is also included; producers and fertilizer markets for this chemical are covered in greater detail in the CEH Potash report.
Potassium is an important nutrient, and the sulfate, chloride, and nitrate salts are used primarily as fertilizers, although they also have some industrial applications. Industrial markets are most important for potassium carbonate, which is used increasingly in fracking applications.
Potassium chloride is the most commonly used and least expensive source of potassium for plant nutrition, and fertilizers represent the dominant market for this chemical. The largest industrial market for potassium chloride is for potassium hydroxide production.
The following pie chart shows world consumption of potassium chloride: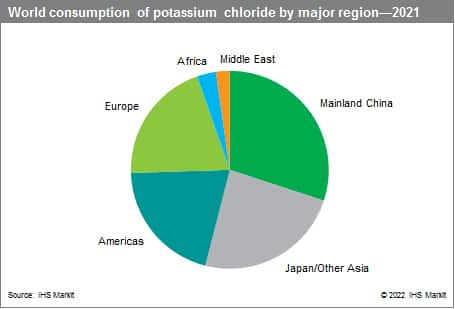 Most potassium sulfate production is for fertilizer use for crops that are intolerant of the chloride ion. Global demand for potassium sulfate has been increasing over the past decade, and further growth is expected, particularly for specialty crops in the Asia Pacific region and for controlled-release fertilizers in the United States.
Potassium nitrate is the second-largest source of nonchloride potassium fertilizer. Its major industrial use is as a component of specialty glasses, but this end use has shrunk with the disappearance of the cathode-ray tube (CRT) market. Use for the production of frits for the ceramics and enamel industries and as a thermal storage medium in solar-based electricity-generating plants is expected to show some growth over the next five years.
Caustic potash, or potassium hydroxide, which is derived from potassium chloride, is the potassium chemical of greatest industrial importance. It is used in a wide variety of industrial applications, including the production of potassium carbonate and other potassium chemicals, soaps and detergents, and fertilizers.
The major market for potassium carbonate used to be in the manufacture of specialty glasses for cathode-ray tubes (CRTs). The CRT market has disappeared in the last decade, impacted by the growing popularity of liquid crystal displays and plasma screens, which use significantly less potassium carbonate. Potassium bicarbonate, which is derived from potassium carbonate, is used primarily as a fire extinguisher chemical, leavening agent, and pharmaceutical ingredient.
For more detailed information, see the table of contents, shown below.
S&P Global's Chemical Economics Handbook – Potassium Chemicals, Inorganic is the comprehensive and trusted guide for anyone seeking information on this industry. This latest report details global and regional information, including

Key benefits
S&P Global's Chemical Economics Handbook – Potassium Chemicals, Inorganic has been compiled using primary interviews with key suppliers and organizations, and leading representatives from the industry in combination with S&P Global's unparalleled access to upstream and downstream market intelligence and expert insights into industry dynamics, trade, and economics.
This report can help you
Identify trends and driving forces influencing chemical markets
Forecast and plan for future demand
Understand the impact of competing materials
Identify and evaluate potential customers and competitors
Evaluate producers
Track changing prices and trade movements
Analyze the impact of feedstocks, regulations, and other factors on chemical profitability