Published June 2023
In terms of volume, HDPE is the third-largest commodity plastic material in the world, after polyvinyl chloride and polypropylene.
The HDPE industry is in a growth mode, with supply and demand continuing to increase strongly in 2022–2027. Demand will continue to be dominated by Asia, primarily mainland China. Northeast Asia alone is forecast to consume more than one-third of the total global consumption in 2027. Historically, traditional established economies such as North America, Western Europe and Japan produced HDPE. The recent growth of the polyethylene industry has resulted in the shifting of production centers to regions with feedstock advantage (like the Middle East) or those with a prominent domestic demand base (such as mainland China).
The following chart presents world consumption of HDPE: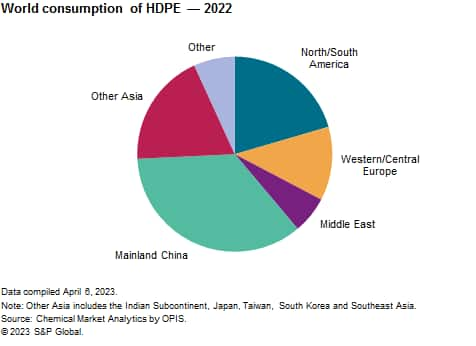 World HDPE consumption is driven by mainland Chinese demand, which accounted for more than one-third of world consumption in 2022. Mainland Chinese polyethylene demand represents robust growth, whereas mature markets like the United States, Europe and Japan will either remain flat or grow at a comparatively small rate. The United States is characterized by increased supply in the global environment, whereas mainland China continues to drive Northeast Asian demand for the product.
In 2021–2022, the COVID-19 pandemic disrupted demand for HDPE around the world apart from in mainland China, which reported a positive growth rate.
Film and sheet applications lead the demand for HDPE globally, followed by blow molding applications. Blow molding, injection molding and film and sheet together account for more than two-thirds of the world market for HDPE, most of which is for packaging (excluding blow-molded fuel tanks).
Demand in Southeast Asia and mainland China is driven by film and sheet applications, whereas demand in the United States and Western Europe is driven by blow molding applications for HDPE resins.
Construction and other consumer and industrial applications are influenced by business cycles and fluctuate in tandem with the economy because of the exposure of HDPE applications in construction, such as in piping.
Blow molding and injection molding are the dominant end uses in Western Europe and North America. Consumption of HDPE in these end uses in Japan is considerably less. As a percentage of total HDPE consumption, film usage in Japan and Other Asia is nearly twice as large as the share of film in either the United States or Western Europe.
Future growth in world HDPE consumption will be driven by the status and progress of regional economies, continued substitution of HDPE for traditional materials (e.g., glass, wood, concrete, paper), and avoidance of obsolescence of HDPE in some traditional applications. This latter factor will be more evident in the developed regions of the world where continued improvements in polyolefin processes and catalyst technologies should allow for the production of very broad ranges of products and grades that will increase HDPE's utility in the marketplace. HDPE will also experience competition from traditional materials such as other existing thermoplastics as well as from emerging polymers brought into the marketplace via new technologies such as metallocene catalysts.
For more detailed information, see the table of contents, shown below.
S&P Global's Chemical Economics Handbook – Polyethylene Resins, High-Density (HDPE) is the comprehensive and trusted guide for anyone seeking information on this industry. This latest report details global and regional information, including
Key Benefits
S&P Global's Chemical Economics Handbook – Polyethylene Resins, High-Density (HDPE) has been compiled using primary interviews with key suppliers and organizations, and leading representatives from the industry in combination with S&P Global's unparalleled access to upstream and downstream market intelligence and expert insights into industry dynamics, trade, and economics.
This report can help you
Identify trends and driving forces influencing chemical markets
Forecast and plan for future demand
Understand the impact of competing materials
Identify and evaluate potential customers and competitors
Evaluate producers
Track changing prices and trade movements
Analyze the impact of feedstocks, regulations, and other factors on chemical profitability