Published July 2021
Glycerin (glycerine, glycerol, 1,2,3-propanetriol) is a polyhydric alcohol mainly derived from the production of soap, and in the conversion of fats and oils to fatty acids, fatty alcohols, or biodiesel. There are many different grades of glycerin. Refined glycerin, as discussed in this report, is purified to 99.5% and up. Traditional uses in personal and oral care, food and beverage, and tobacco markets require refined glycerin to meet USP certification, a quality standard set for human consumption. Almost all glycerin derived from fatty acids, fatty alcohols, and soap production is further refined to meet this standard. In recent years, increased output from biodiesel has resulted in an oversupply of crude glycerin, leading to a new product grade called technical glycerin that is equivalent to USP quality but does not meet USP certification requirements. Technical-grade glycerin finds significant growth in industrial applications, primarily as a renewable building block in chemicals production of epichlorohydrin, propylene glycol, and polyether polyols. Southeast Asia and Brazil are the top suppliers of refined glycerin owing to significant growth of the biodiesel industry. The global refined glycerin market will continue robust growth of 4.3% per year in 2020–25.
The following pie chart presents world consumption of refined glycerin: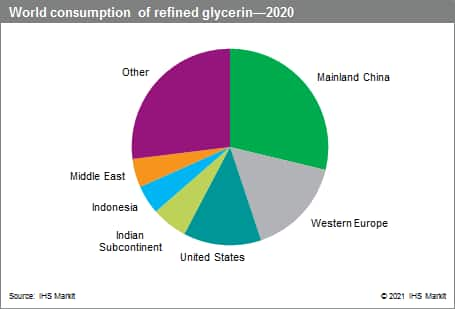 For more detailed information, please see the table of contents listed below.
S&P Global's Chemical Economics Handbook –Glycerin is the comprehensive and trusted guide for anyone seeking information into this industry. This latest report details global and regional information, including:
Key Benefits
S&P Global's Chemical Economics Handbook –Glycerin has been compiled using primary interviews with key suppliers, organizations and leading representatives from the industry in combination with S&P Global's unparalleled access to upstream and downstream market intelligence, expert insights into industry dynamics, trade and economics.
This report can help you:
Identify trends and driving forces influencing chemical markets
Forecast and plan for future demand
Understand the impact of competing materials
Identify and evaluate potential customers and competitors
Evaluate producers
Track changing prices and trade movements
Analyze the impact of feedstocks, regulations, and other factors on chemical profitability