Published December 2022
This report covers the five major chemicals used to improve gasoline octane ratings—fuel ethanol, methyl tertiary-butyl ether (MTBE), methanol, ethyl tertiary-butyl ether (ETBE), and tertiary-amyl methyl ether (TAME). Worldwide, the leading gasoline octane improvers are fuel ethanol, MTBE, methanol (primarily in mainland China), and then ETBE. TAME is the smallest of the major octane improvers.
The following chart shows world consumption of gasoline octane improvers/oxygenates by type: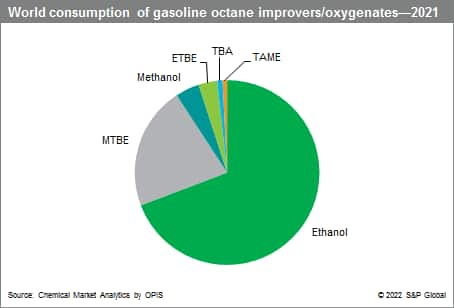 After ethanol, the second leading gasoline octane improver/oxygenate is MTBE. Starting in the late 1970s, MTBE was the predominant choice of gasoline oxygenate used worldwide because of its low cost, high octane value, and easy incorporation into gasoline stock. However, in the late 1990s, MTBE was alleged to cause detrimental environmental impact by contaminating water supplies. As a result, the use of MTBE as an oxygenate in gasoline ceased in Japan in 2001 and in the United States and Canada in 2006. MTBE is still widely used as an octane booster in motor gasoline in Europe, the Middle East, Africa, and Asia.
The United States still produces MTBE, but mainly for the export market or for blending into gasoline for export. There are several large Latin American consumers of MTBE (such as Mexico and Venezuela) that import considerable quantities from the United States. Both have made some plans to use more ethanol or ETBE to reduce greenhouse gases (GHGs).
The third-largest-volume gasoline octane improver/oxygenate used in the world is methanol. Consumption is primarily in mainland China (greater than 95%), with smaller quantities being consumed in Western Europe, the Middle East, Africa, and Southeast Asia.
ETBE is consumed primarily in Western Europe and Japan, where the mandated use of biofuels is driving consumption for bioethanol-based ETBE.
For more detailed information, see the table of contents, shown below.
IHS Markit's Chemical Economics Handbook – MTBE, ETBE, and Other Octane Improvers is the comprehensive and trusted guide for anyone seeking information on this industry. This latest report details global and regional information, including

Key benefits
IHS Markit's Chemical Economics Handbook – MTBE, ETBE, and Other Octane Improvers has been compiled using primary interviews with key suppliers and organizations, and leading representatives from the industry in combination with IHS Markit's unparalleled access to upstream and downstream market intelligence and expert insights into industry dynamics, trade, and economics.
This report can help you
Identify trends and driving forces influencing chemical markets
Forecast and plan for future demand
Understand the impact of competing materials
Identify and evaluate potential customers and competitors
Evaluate producers
Track changing prices and trade movements
Analyze the impact of feedstocks, regulations, and other factors on chemical profitability