Published July 2020
Formic acid (methanoic acid, HCOOH) is a colorless liquid with a sharp odor. It is soluble in water, various alcohols, acetone, and ether. It is produced mainly by hydrolysis of methyl formate. Most applications require formic acid in concentrations of 75%, 85%, 94%, or 99%; the 85% product accounts for the major portion of global demand and is considered the industry standard.
Mainland China and Europe are the largest consumers, although uses are very diverse in the two regions. In Europe, silage and animal feeds represent the major end markets, while pharmaceuticals/food chemicals are predominant in mainland China. Globally, silage preservation/animal feed additives is the largest application since 2009, when it surpassed leather and tanning. Improving living standards globally have increased consumption of meat, raising demand for formic acid in silage preservation and animal feeds. During 2016–20, consumption of formic acid in silage preservation and animal feeds has continued to significantly increase in most other regions, particularly in Eastern Europe and Asia.
Other important end markets for formic acid include leather and tanning, rubber chemicals (antiozonants and coagulants), and textile dyeing and finishing. In many instances, formic acid is used to regulate the pH of chemical processes. The leather and textile markets have been badly affected as a result of the COVID-19 pandemic in 2020. This has further sharpened the oversupply in the market, which was already significant in 2019.
The following pie chart shows world consumption of formic acid: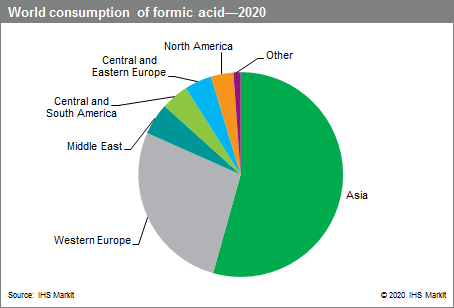 Assuming that global consumption will start to slowly recover in 2021, the market is expected to become better balanced by 2025, even when still amply supplied. Silage preservation/feed additives and pharmaceuticals/food additives will drive future growth. The bulk of the growth will occur in Asia. Nevertheless, some restructuring is still likely, especially for those facilities based on the old sodium formate route.
For more detailed information, see the table of contents, shown below.
S&P Global's Chemical Economics Handbook – Formic Acid is the comprehensive and trusted guide for anyone seeking information on this industry. This latest report details global and regional information, including

Key Benefits
S&P Global's Chemical Economics Handbook – Formic Acid has been compiled using primary interviews with key suppliers and organizations, and leading representatives from the industry in combination with S&P Global's unparalleled access to upstream and downstream market intelligence and expert insights into industry dynamics, trade, and economics.
This report can help you
Identify trends and driving forces influencing chemical markets
Forecast and plan for future demand
Understand the impact of competing materials
Identify and evaluate potential customers and competitors
Evaluate producers
Track changing prices and trade movements
Analyze the impact of feedstocks, regulations, and other factors on chemical profitability