Published November 2022
Fluoropolymers are among the most useful modern materials, providing nonstick surfaces for cookware and industrial products, waterproofing surface treatments for clothing and other substrates, stain barriers for textiles, high-purity fluid handling "plumbing," medical applications, wire and cable insulation jackets, highperformance coatings for harsh environments, mar-free coatings for touch screen electronic devices, architectural and marine coating additives, backsheets for photovoltaic panels, films and membranes for technical, waterproof clothing, and industrial applications.
The following pie chart shows world consumption of fluoropolymers by type: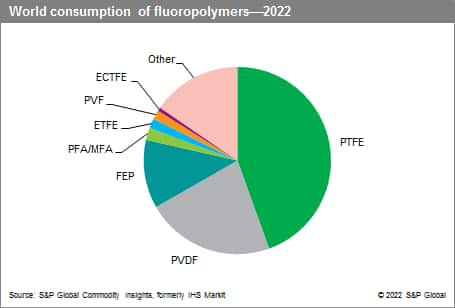 PTFE accounted for about 45% of the world market for fluoropolymers, with other fluoropolymers (including PVDF, FEP, PCTFE, ETFE, PFA, PVF, ECTFE, THV, CTFE-VDF, and amorphous types) being used for specific purposes or where PTFE does not meet performance requirements. PVDF and FEP are the next-most-widely used fluoropolymers, accounting for about 22% and 12%, respectively, of the global fluoropolymers market in 2022.
Mainland China is the dominant consumer of fluoropolymers in the world, representing 37% of PTFE consumption and nearly 48% of other fluoropolymer consumption in 2022. Future demand for fluoropolymers is estimated to increase at a rapid rate of 7–8% in 2022–27, mainly driven by the fast-growing market for lithium-ion batteries (LiB), in which PVDF is used in making separator coating and electrode binder. Even so, PTFE will remain at the forefront of manufacture and use of fluoropolymers during the forecast period.
For more detailed information, see the table of contents, shown below.
S&P Global's Chemical Economics Handbook – Fluoropolymers is the comprehensive and trusted guide for anyone seeking information on this industry. This latest report details global and regional information, including
Key Benefits
S&P Global's Chemical Economics Handbook – Fluoropolymers has been compiled using primary interviews with key suppliers and organizations, and leading representatives from the industry in combination with S&P Global's unparalleled access to upstream and downstream market intelligence and expert insights into industry dynamics, trade, and economics.
This report can help you
Identify trends and driving forces influencing chemical markets
Forecast and plan for future demand
Understand the impact of competing materials
Identify and evaluate potential customers and competitors
Evaluate producers
Track changing prices and trade movements
Analyze the impact of feedstocks, regulations, and other factors on chemical profitability