Published August 2023
This report presents an overview of the global supply and demand for natural fibers (cotton and wool) and man-made fibers (synthetic fibers and cellulosic fibers), broken out by major world regions. Synthetic fibers (acrylic, nylon, polyester and polyolefin) remain the largest fiber type produced, followed by cotton, cellulosic fibers (rayon and acetate) and wool.
World production of textile fibers has more than doubled in the past 30 years. The growth of the textile fiber industry in mainland China and Other Asia has had a significant impact on the textile fiber industries in developed economies. Over the last few decades, fiber production in mainland China and Other Asia has not only met the significant regional demand increases but also supplied an increasing share of global consumption.
The following pie charts present world consumption of natural and man-made fibers by type and by region: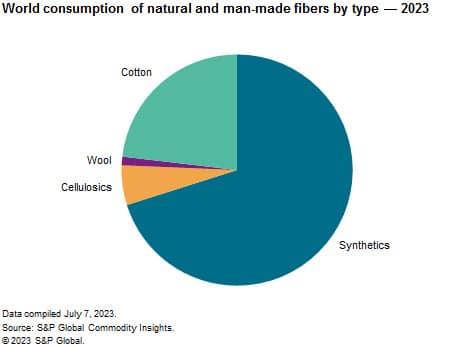 The response to COVID-19 drove production growth of synthetic fibers for use in medical and personal protection equipment, but the pandemic had a negative impact on consumption of apparel, home textiles and use in the construction and automotive industries, related to the economic recession and weakened demand. Synthetic fiber production had recovered to the pre-pandemic level by 2023, and global production of synthetic fibers is forecast to grow at a healthy pace over the next five years.
For more detailed information, see the table of contents, shown below.
S&P Global's Chemical Economics Handbook – Fibers Overview is the comprehensive and trusted guide for anyone seeking information on this industry. This latest report details global and regional information, including

Key benefits
S&P Global's Chemical Economics Handbook – Fibers Overview has been compiled using primary interviews with key suppliers and organizations, and leading representatives from the industry in combination with S&P Global's unparalleled access to upstream and downstream market intelligence and expert insights into industry dynamics, trade and economics.
This report can help you
Identify trends and driving forces influencing chemical markets
Forecast and plan for future demand
Understand the impact of competing materials
Identify and evaluate potential customers and competitors
Evaluate producers
Track changing prices and trade movements
Analyze the impact of feedstocks, regulations, and other factors on chemical profitability