Published July 2023
Ethylene–vinyl alcohol copolymer resins (EVOH) are specialty products that have superior gas barrier properties. They are often used as the internal layer in multilayer food packaging films and blow-molded rigid containers for a variety of purposes including gasoline tanks for automobiles. EVOH can be fabricated by melt processing. The barrier properties of EVOH films decrease in the presence of moisture, so coextrusion with protective polypropylene (PP) (especially biaxially oriented material), low-density polyethylene (LDPE), nylons, or other moisture barrier films provides films or articles that are useful even with liquids.
In all world areas, EVOH are used predominantly in laminated gas barrier packaging films and to a lesser extent in extruded articles including blow-molded or thermoformed plastic parts, sheets and automotive gasoline tanks.
The following pie chart shows world consumption of ethylene–vinyl alcohol resins: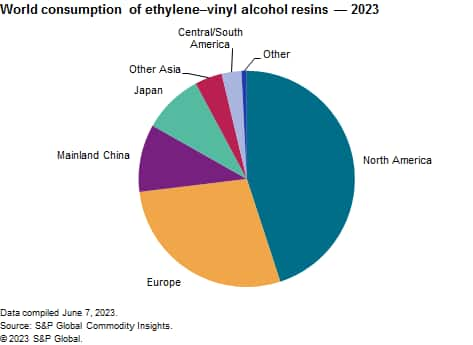 The EVOH industry is an oligopoly, that is, a market with a very limited number of producers, a result of the high market entry barriers of high capital costs and the time-consuming and expensive process of product specification for food usage.
EVOH are made from ethylene and vinyl acetate. The polymer content of the ethylene can be 25 to 50 mole percent in EVOH resins, and can be adjusted to reach desired properties in the final resin.
During 2023–28, the worldwide average annual growth rate for EVOH consumption is expected to be about 3%; the highest growth rate will be in Other Asian markets (excluding Japan).
For more detailed information, see the table of contents, shown below.
IHS Markit's Chemical Economics Handbook – Ethylene–Vinyl Alcohol Resins is the comprehensive and trusted guide for anyone seeking information on this industry. This latest report details global and regional information, including

Key benefits
IHS Markit's Chemical Economics Handbook – Ethylene–Vinyl Alcohol Resins has been compiled using primary interviews with key suppliers and organizations, and leading representatives from the industry in combination with S&P Global's unparalleled access to upstream and downstream market intelligence and expert insights into industry dynamics, trade and economics.
This report can help you
Identify trends and driving forces influencing chemical markets
Forecast and plan for future demand
Understand the impact of competing materials
Identify and evaluate potential customers and competitors
Evaluate producers
Track changing prices and trade movements
Analyze the impact of feedstocks, regulations, and other factors on chemical profitability