Published December 2022
Low-density polyethylene (LDPE) resins were introduced in the late 1930s. Over the last 80 years, the classification "low-density polyethylene" has grown to encompass several chemically and physically distinct ethylene homopolymer, copolymer, and terpolymer products. Copolymer products are another class of LDPE and include ethylene copolymers with vinyl acetate and other esters or acid groups, which are referred to generally as LDPE copolymers and include identifiable subproduct groupings such as EVA, ethylene–methyl acrylate (EMA), ethylene–butyl acrylate (EBA), and ethylene–ethyl acrylate (EEA). EVA copolymers are the focus of this report; references are provided to LDPE products, but no detailed analysis is included.
EVA copolymers are considered specialty polymers, and their overall consumption is predicted to grow at a faster rate than that of LDPE.
The following pie chart shows world consumption of EVA: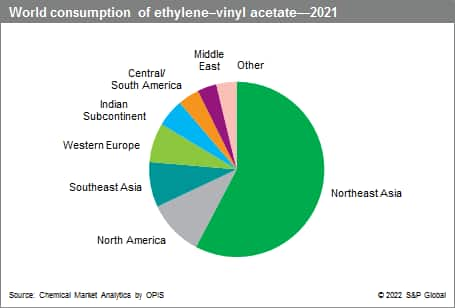 Major EVA end uses include adhesives, blow molding, wire and cable manufacturing, film production, foam sheet, extrusion, coextrusion, lamination, coatings, hot-melts, and injection molding. EVAs are also used to modify polymers to improve their flexibility and toughness, and are added to fuel oils to improve cold flow characteristics. Film and sheet applications are the largest-volume markets for EVA; they are the major growth markets in regions like mainland China. Film uses of EVA copolymers include food and industrial packaging, surface protection, and agricultural greenhouse films.
One nonpackaging film use for EVA copolymers is in photovoltaic cells and protective solar panel films. EVA sheet in a solar cell module is an essential material because of its two major functions: adhesion to glass, cell, and back sheet, and protection of the cell from moisture and dust. High transparency is a key attribute for photovoltaic cell encapsulation; in order to achieve the optimum performance, the encapsulant material must satisfy several different requirements, including high optical transmittance of incident light; good dielectric properties (electrically insulating); mechanical compliance to protect the solar cells from external mechanical loads and stresses induced by differences in thermal expansion coefficients; good adhesion to both glass and silicon solar cells; and sufficiently robust and low-to-no propensity to leak, separate, thin out, or crack during their economic lives of 20–30 years in the field.
For more detailed information, see the table of contents, shown below.
IHS Markit's Chemical Economics Handbook – Ethylene–Vinyl Acetate (EVA) is the comprehensive and trusted guide for anyone seeking information on this industry. This latest report details global and regional information, including

Key benefits
IHS Markit's Chemical Economics Handbook – Ethylene–Vinyl Acetate (EVA) has been compiled using primary interviews with key suppliers and organizations, and leading representatives from the industry in combination with IHS Markit's unparalleled access to upstream and downstream market intelligence and expert insights into industry dynamics, trade, and economics.
This report can help you
Identify trends and driving forces influencing chemical markets
Forecast and plan for future demand
Understand the impact of competing materials
Identify and evaluate potential customers and competitors
Evaluate producers
Track changing prices and trade movements
Analyze the impact of feedstocks, regulations, and other factors on chemical profitability