Published July 2022
Ethanolamines correspond to a class of organic compounds that include monoethanolamine (MEA), diethanolamine (DEA), and triethanolamine (TEA). Ethanolamines are used in a wide range of applications, including acid gas purification, surfactants for soaps and detergents, and corrosion inhibitors. Ethanolamines are exclusively synthesized by reacting an amine with ethylene oxide (EO). Global consumption of ethanolamines will continue to grow at an average annual rate of 2.4% during 2021–26, driven primarily by the developing markets in Asia, particularly mainland China.
The following pie chart shows world consumption of ethanolamines: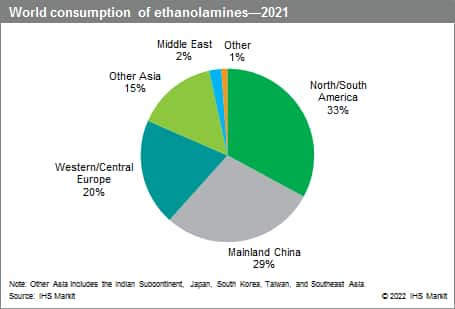 For more detailed information, see the table of contents, shown below.
S&P Global's Chemical Economics Handbook – Ethanolamines is the comprehensive and trusted guide for anyone seeking information on this industry. This latest report details global and regional information, including

Key benefits
S&P Global's Chemical Economics Handbook – Ethanolamines has been compiled using primary interviews with key suppliers and organizations, and leading representatives from the industry in combination with S&P Global's unparalleled access to upstream and downstream market intelligence and expert insights into industry dynamics, trade, and economics.
This report can help you
Identify trends and driving forces influencing chemical markets
Forecast and plan for future demand
Understand the impact of competing materials
Identify and evaluate potential customers and competitors
Evaluate producers
Track changing prices and trade movements
Analyze the impact of feedstocks, regulations, and other factors on chemical profitability