Published November 2022
In 2022, fossil fuels continue to dominate global energy markets. While crude oil remains the major global source of transportation fuels, power, and heat, the source of energy that has grown the most over the past decade has been natural gas. Increasing production and export capacity as well as its better environmental performance and strong policy support in key markets have led to rising natural gas consumption, particularly in North America, the Middle East, and Northeast Asia. In the meantime, the development of renewables has been uneven across the world, largely dependent on supportive government policies as well as evolving technologies and improving cost of production.
The following pie charts show world consumption of energy by region and by fuel: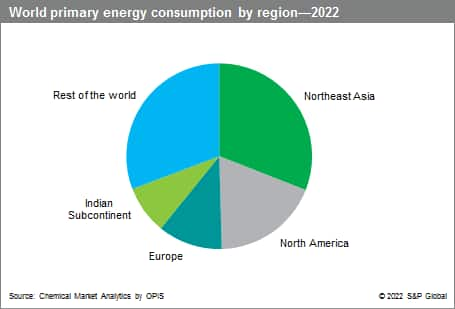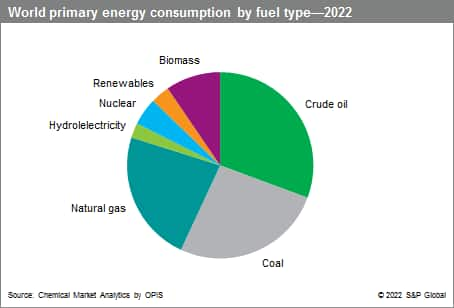 Energy requirements continue to grow globally, driven by expanding population, improving living standards in heavily populated areas, and continued urbanization. The rise in renewable energy has remained insufficient to tackle the global warming issues and durably curb GHG emissions. The COVID-19 pandemic has had a profound impact on global energy markets, with significant short-term seen across many sectors. Despite the fact that GHG emissions have slowed, the absolute level of emissions continues to increase, except for the unprecedented drop in 2020. In 2020, an acceleration in net-zero emission pledges has changed our primary energy and emissions forecasts, with GHG emissions expected to crest in the medium term.
This report provides IHS Markit's base case scenario (the Inflections scenario) including the latest forecasts by fuel and region. The energy inflections is driven by four factors: price differential, environmental concerns, technology improvements, and energy security. It also takes into account the currently unfolding Russia- Ukraine conflict.
For more detailed information, see the table of contents, shown below.
IHS Markit's Chemical Economics Handbook – Energy is the comprehensive and trusted guide for anyone seeking information on this industry. This latest report details global and regional information, including

Key benefits
IHS Markit's Chemical Economics Handbook – Energy has been compiled using primary interviews with key suppliers and organizations, and leading representatives from the industry in combination with IHS Markit's unparalleled access to upstream and downstream market intelligence and expert insights into industry dynamics, trade, and economics.
This report can help you
Identify trends and driving forces influencing chemical markets
Forecast and plan for future demand
Understand the impact of competing materials
Identify and evaluate potential customers and competitors
Evaluate producers
Track changing prices and trade movements
Analyze the impact of feedstocks, regulations, and other factors on chemical profitability