Published October 2020
This report is intended to serve as a world overview of elastomer supply and demand; however, the various CEH reports on each of the individual elastomers should be considered the definitive source of data and information for each material. This report includes the following large-volume synthetic elastomers (as well as natural rubber), which are referred to as general-purpose elastomers: butyl, ethylene-propylene, nitrile (excluding latex), polybutadiene, polychloroprene (neoprene), polyisoprene, and styrene-butadiene (SBR). This report does not cover styrene-butadiene latexes nor nitrile elastomer latexes.
The following pie charts show world consumption of natural rubber and synthetic elastomers.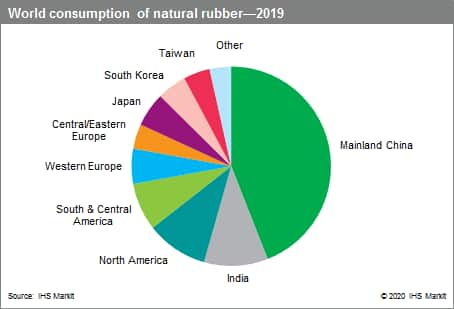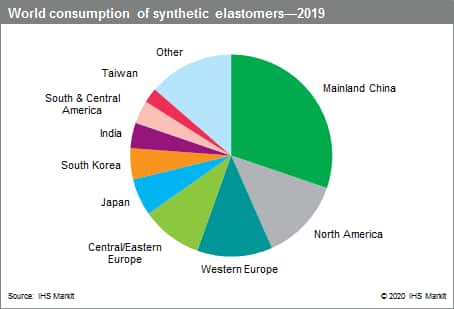 For more detailed information, see the table of contents, shown below.
S&P Global's Chemical Economics Handbook – Elastomers Overview is the comprehensive and trusted guide for anyone seeking information on this industry. This latest report details global and regional information, including

S&P Global's Chemical Economics Handbook – Elastomers Overview has been compiled using primary interviews with key suppliers, organizations and leading representatives from the industry in combination with S&P Global's unparalleled access to upstream and downstream market intelligence, expert insights into industry dynamics, trade and economics.
This report can help you:
Identify trends and driving forces influencing chemical markets
Forecast and plan for future demand
Understand the impact of competing materials
Identify and evaluate potential customers and competitors
Evaluate producers
Track changing prices and trade movements
Analyze the impact of feedstocks, regulations, and other factors on chemical profitability