Published September 2023
Terephthalic acid (TPA) and dimethyl terephthalate (DMT) are consumed primarily to produce linear, saturated polyester resins, fibers and films by reaction with glycols. Nearly all worldwide consumption of TPA and DMT is for the production of intermediate polyethylene terephthalate (PET) polymer. PET polymer, also referred to as reactor-grade polyester or PET melt-phase resin, is consumed primarily in the production of polyester fibers, polyester film and solidstate (bottle-grade) resins. TPA has lower capital costs and better manufacturing economics and, therefore, is the preferred feedstock for nearly all terephthalate applications.
The following chart presents world consumption of TPA/DMT: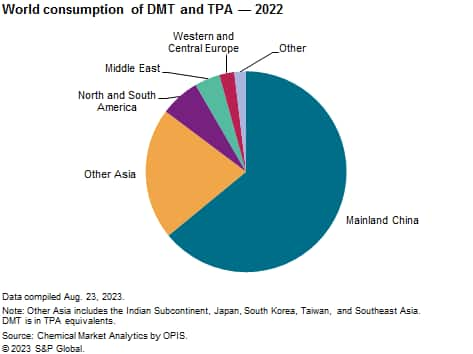 Asia is the largest consumer of TPA/DMT, although consumption is almost entirely TPA. Mainland China is and will remain the largest global market for TPA. Asia will also account for most of the world's TPA/DMT consumption growth in the next five years.
Polyester melt polymer accounts for almost all TPA/DMT consumption. The manufacture of polybutylene terephthalate (PBT), polytrimethylene terephthalate (PTT), dioctyl terephthalate and other minor products such as cyclohexanedimethanol (CHDM), terephthaloyl chloride and copolyester-ether elastomers accounts for the remainder. Increasing demand for polyester fibers will drive future consumption of TPA/DMT. Its ample availability, advantaged cost position and performance characteristics relative to competing materials have positioned polyester fibers to take the largest share of global man-made fiber consumption growth.
During 2017–22, consumption of TPA grew at nearly 5% per year, while the DMT market declined at more than 1% per year. Consumption of DMT will continue to decline in favor of TPA. The increase in TPA consumption will be mainly driven by the growing PET resin and fiber markets in mainland China, India, the United States, Southeast Asia and the Middle East.
There is interest in recycling PET, especially when virgin polymer prices are relatively high. The portion of PET that is recycled is high compared with most other resins. Most recycled PET is utilized as waste polymer for reprocessing, but processes have also been developed to chemically regenerate monomers or oligomers. The impetus for development of these processes is the assumption that chemical intermediates will find acceptability in a broader range of highervalue-added applications. Although there is significant capacity for regeneration, the amount of PET reprocessed is much smaller than the amount that is recycled as resin.
For more detailed information, see the table of contents, shown below.
S&P Global's Chemical Economics Handbook – Dimethyl Terephthalate (DMT) and Terephthalic Acid (TPA) comprehensive and trusted guide for anyone seeking information on this industry. This latest report details global and regional information, including
Key Benefits
S&P Global's Chemical Economics Handbook – Dimethyl Terephthalate (DMT) and Terephthalic Acid (TPA) has been compiled using primary interviews with key suppliers and organizations, and leading representatives from the industry in combination with S&P Global's unparalleled access to upstream and downstream market intelligence and expert insights into industry dynamics, trade and economics.
This report can help you
Identify trends and driving forces influencing chemical markets
Forecast and plan for future demand
Understand the impact of competing materials
Identify and evaluate potential customers and competitors
Evaluate producers
Track changing prices and trade movements
Analyze the impact of feedstocks, regulations, and other factors on chemical profitability