Published December 2020
Carbon black is a form of carbon generally produced by the incomplete combustion or thermal decomposition of hydrocarbons under controlled conditions. It is used to improve certain properties of the materials to which it is added, primarily as a reinforcement agent, light stabilizer, and black pigment for rubber in tires and other rubber products; as a pigment in coatings, printing inks, and plastics; and for conductive properties in polymers and resins. Production economics are very dependent on the specific feedstock for carbon black manufacturing, which varies widely by region.
The growth of carbon black is closely tied to the automotive industry and the production of tires. With the global automobile industry moving east to mainland China, India, and Central and Eastern Europe, the tire industry has followed, and with it the carbon black producers. The availability of natural rubber in Southeast Asia is also a factor in the tire industry's investment pattern.
The following chart shows world consumption of carbon black: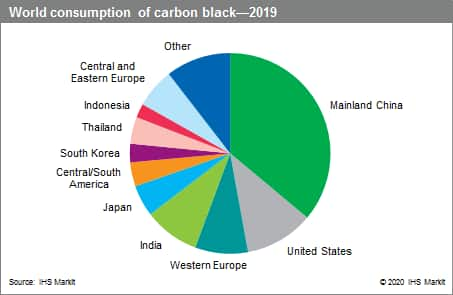 For more detailed information, see the table of contents, shown below.
S&P Global's Chemical Economics Handbook –Carbon Black is the comprehensive and trusted guide for anyone seeking information on this industry. This latest report details global and regional information, including

S&P Global's Chemical Economics Handbook–Carbon Black has been compiled using primary interviews with key suppliers, organizations and leading representatives from the industry in combination with S&P Global's unparalleled access to upstream and downstream market intelligence, expert insights into industry dynamics, trade and economics.
This report can help you:
Identify trends and driving forces influencing chemical markets
Forecast and plan for future demand
Understand the impact of competing materials
Identify and evaluate potential customers and competitors
Evaluate producers
Track changing prices and trade movements
Analyze the impact of feedstocks, regulations, and other factors on chemical profitability