Biodiesel and Renewable Diesel Market Outlook, Supply & Demand, Forecast and Analysis
Published March 2021
Global consumption of biodiesel, known as FAME, will continue to grow at an average rate of nearly 3% during 2020–25, driven primarily by the developing markets in Southeast Asia and South America, particularly Indonesia and Brazil. The demand for biodiesel will vary by region, based on the development of biofuel legislation, feedstock competitiveness and the GHG reduction agenda.
Renewable diesel, a competitor to biodiesel, will register strong growth of over 10% during the next five years. Legislation that focuses on GHG reduction, such as California's LCFS and EU's REDII, will favor low carbon fuel use with greater content in the transportation fuel sector. Renewable diesel offers attractive properties such as infrastructure compatibility, no consumption limitation on vehicles, and low carbon intensity due to wide use of waste materials as feedstocks.
Under a broader definition, biomass-based diesel, including biodiesel FAME and renewable diesel, will experience robust growth of 4.6% over the next five years.
The following pie chart shows world consumption of biodiesel: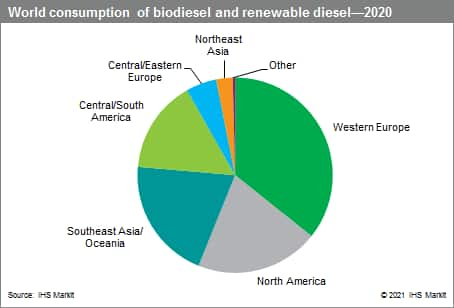 Corporate activity in the biodiesel and renewable diesel industry remains dynamic, with numerous acquisitions and investments announced and materialized since the last report was published in 2018, as organizations try to meet the challenges of volatile feedstock, new capacity expansions, and new legislation. There has been a big wave of investments into the renewable diesel space, led by developed markets, particularly United States and Western Europe.
This report provides an excellent insight into the global market for biodiesel and renewable diesel, as well as the most recent legislation related to biofuels and climate change, and the various feedstock associated with the production of such renewable fuels. It has been compiled using primary industry research and brings together elements of other S&P Global reports in the Chemical Economics Handbook (CEH) and Specialty Chemicals Update Program (SCUP) suite of biofueland oleochemical-related reports.
For more detailed information, see the table of contents, shown below.
S&P Global's Chemical Economics Handbook – Biodiesel and Renewable Diesel is the comprehensive and trusted guide for anyone seeking information on this industry. This latest report details global and regional information, including

Key benefits
S&P Global's Chemical Economics Handbook – Biodiesel and Renewable Diesel has been compiled using primary interviews with key suppliers and organizations, and leading representatives from the industry in combination with S&P Global's unparalleled access to upstream and downstream market intelligence, expert insights into industry dynamics, trade, and economics.
This report can help you:
Identify trends and driving forces influencing biofuel markets
Forecast and plan for future demand
Understand the impact of competing materials
Identify and evaluate potential customers and competitors
Evaluate producers
Track changing prices and trade movements
Analyze the impact of feedstock, regulations, and other factors on biofuel profitability