Published December 2021
Benzoate plasticizers are the second-most important end use for benzoic acids. They are mainly used as highsolvating plasticizers in plasticizer blends for PVC resins. Their use has seen some growth in Europe and North America in the past, where regulatory issues have forced the replacement of low-molecular-weight phthalate plasticizers in PVC resins.
Other major applications include alkyd resins, benzoyl chloride, and animal feed
The following pie chart shows world consumption of benzoic acid: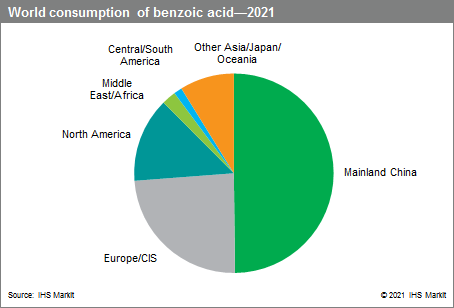 Mainland China, Western Europe, and North America account for the majority of world consumption of benzoic acid in 2021. Sodium and potassium benzoate accounted for most consumption in Asia (where mainland China is the largest world producer and consumer), Europe, and Central and South America.
Global growth prospects for benzoic acid are moderate. Future growth in demand will be driven mostly by the increasing production of sodium and potassium benzoate salts in mainland China and eventually in Europe. The main factors behind this growth are the following:
Increasing urbanization and improving living standards, particularly in Asia
Food safety (preservation): longer shelf lives are anticipated as more food and ready-to-drink beverages are consumed days or weeks after production
Desire for convenience (increased popularity of processed foods and ready-to-drink beverages)
Demand for benzoate plasticizers has also shown sustained growth, especially in Europe and North America, where regulatory issues and environmental legislation have driven the need to replace low-molecular-weight phthalate plasticizers in PVC resins. In particular, benzoate plasticizers have replaced low-molecular-weight phthalates, such as DEP and DBP.
The third major use of benzoic acid is in the production of alkyd resins, where it can be used both as a building block and as a chain stopper during polymerization. This application, however, is gradually losing its importance in Europe and North America because of environmental regulations concerning VOC emissions. Since the early 2000s, alkyd surface coatings have been replaced with acrylic latexes and, to a lesser degree, with epoxies, urethanes, polyesters, and vinyls in many coating applications. Nonetheless, alkyd resin is still the third most important application in mainland China, and is also the most important end market for benzoic acid in the CIS countries, the Middle East (particularly in Turkey), and South America. Consumption of benzoyl chloride occurs primarily in mainland China, whereas its use as animal feed is concentrated in Europe.
For more detailed information, see the table of contents, shown below.
S&P Global's Chemical Economics Handbook – Benzoic Acid is the comprehensive and trusted guide for anyone seeking information on this industry. This latest report details global and regional information, including

Key Benefits
S&P Global's Chemical Economics Handbook – Benzoic Acid has been compiled using primary interviews with key suppliers, organizations and leading representatives from the industry in combination with S&P Global's unparalleled access to upstream and downstream market intelligence, expert insights into industry dynamics, trade and economics.
This report can help you:
Identify trends and driving forces influencing chemical markets
Forecast and plan for future demand
Understand the impact of competing materials
Identify and evaluate potential customers and competitors
Evaluate producers
Track changing prices and trade movements
Analyze the impact of feedstocks, regulations, and other factors on chemical profitability