Published September 2022
Ammonium nitrate (AN) is derived from the reaction between ammonia and nitric acid. It contains 33.5–34% nitrogen, of which half is in the nitrate form, which is easily assimilated by plants, and half is in the ammonia form. It is used principally as a nitrogen source in fertilizers and is the main component of most nonmilitary industrial explosives and blasting agents. Fertilizer-grade AN has a slightly higher density than explosive-grade AN. Solid AN (prills or granules) has been the predominant form produced; however, liquid AN has gained popularity, particularly in developed economies, primarily as a component in urea-AN (UAN) solutions.
There is continuous pressure around the world to regulate use and trade of ammonium nitrate because of its potential for misuse as an explosive in terrorism or for accidental detonation. Several countries have banned the sale of ammonium nitrate as a fertilizer, including Australia, mainland China, Germany, Ireland, the Netherlands, and Turkey. This has negatively impacted consumption growth on a global level.
The following pie chart shows world consumption of ammonium nitrates (both AN and CAN):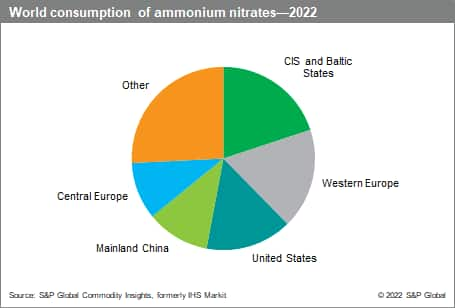 Following its commercial evolution after World War II, AN supply/demand grew steadily for many years and the AN market is now mature. Once the primary nitrogen fertilizer product, ammonium nitrate has lost this position to urea, which has a higher nitrogen content, is more stable, has a lower transportation cost on a nitrogen-content basis, and is often less costly to produce. Ammonium nitrate is expected to continue to lose market share during 2022–27 as more consumers switch to urea or use urea–ammonium nitrate solutions because of their ease of handling and safety. This report reviews the recent history of the ammonium nitrate industry and discusses prospects for its supply and primary markets.
The CIS and Baltic States, Western Europe, and the United States are the leading consumers of ammonium nitrates (AN + CAN). In 2022, these three regions together accounted for about 53% of total world consumption. Consumption is forecast to increase at an average annual rate of 1.2% during 2022–27. Growth in consumption will be driven by the CIS and Baltic States, Western Europe, and Central Europe.
Although consumption of ammonium nitrate varies by region, the world average is 65% in fertilizer applications and 35% in industrial/explosive applications. A large portion of AN consumption in fertilizer applications is in the production of UAN and other nitrogen solutions. All calcium ammonium nitrate (CAN) is used in fertilizer applications. Some AN is consumed in the production of nitrous oxides, which are used as propellants. The aging population in advanced economies will result in increased nitrous oxide demand in the pharmaceutical industry. The semiconductor industry will also see rapid growth in nitrous oxide use in chemical vapor deposition, diffusion, rapid thermal processing, and chamber seasoning applications. Explosives applications account for nearly 98% of industrial applications, with the production of nitrous oxides accounting for the remaining 2%.
For more detailed information, see the table of contents, shown below.
S&P Global's Chemical Economics Handbook – Ammonium Nitrate is the comprehensive and trusted guide for anyone seeking information on this industry. This latest report details global and regional information, including
Key Benefits
S&P Global's Chemical Economics Handbook – Ammonium Nitrate has been compiled using primary interviews with key suppliers and organizations, and leading representatives from the industry in combination with S&P Global's unparalleled access to upstream and downstream market intelligence and expert insights into industry dynamics, trade, and economics.
This report can help you
Identify trends and driving forces influencing chemical markets
Forecast and plan for future demand
Understand the impact of competing materials
Identify and evaluate potential customers and competitors
Evaluate producers
Track changing prices and trade movements
Analyze the impact of feedstocks, regulations, and other factors on chemical profitability