Published September 2023
There are two types of amino resins: urea-formaldehyde (UF) and melamine-formaldehyde (MF). Both are used mainly as adhesives in the wood paneling industry for products such as particleboard, plywood and medium-density fiberboard (MDF). They are produced by numerous companies worldwide, as the technologies are well known requiring low capital investments. Larger producers have multiple locations to serve the local customers; long transport is uneconomical because the adhesives are shipped in water solution.
In 2023, the largest consumer is mainland China, accounting for nearly half of total amino resin consumption. Growth has been strong in mainland China as the result of a greater output of panels for furniture and other goods used in interior applications. Other regions that are experiencing high growth rates are Central and Eastern Europe, the Middle East and the Indian Subcontinent, driven by increasing domestic demand and higher exports.
The following pie chart shows world consumption of amino resins: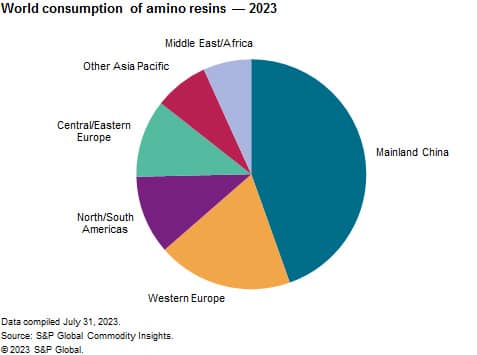 Urea resins have historically been the resin of choice for making interior panels for goods like case goods, cabinets, countertops, doors, furniture and fixtures that are used in interior environments. Adhesives based on UF resins are inexpensive, cure quickly and produce boards with smooth finishes that are easy to machine, paint and laminate. However, UF resins are prone to off-gas fugitive emissions of formaldehyde that cause toxicity concerns. Many board producers now use modified UF resins, phenol-formaldehyde and melamine-formaldehyde resins (which do not off-gas formaldehyde) or nonformaldehyde competing products to meet governmental regulations on formaldehyde emissions (such as CARB Phase 2 in the United States, E1/E2 in Western Europe and Japan Agricultural Standards [JAS] in Japan).
MF resins provide bonding superior to UF resins and are used in applications that are exposed to moisture, such as laminates for flooring. MF adhesives are also less prone to breakdown than UF, and thus do not present formaldehyde off-gassing concerns. However, their prices are considerably above those for UF. In surface coatings, MF resins are preferred to UF resins as curing agents for acrylic, polyester and other resins as they produce coatings with superior properties for application to automobiles, appliances and other high-valued durables.
The COVID-19 pandemic and the resulting government-ordered lockdowns have led to a profound recession impacting virtually every region of the world in 2020; after a rebound in 2021, the global economy slowed down again in 2022. The already slowing construction markets impacted consumption and production of wood panels and furniture, and thus, demand for amino resins. Even so, amino resin demand is expected to recover at 2%-3% annually through 2028.
For more detailed information, see the table of contents, shown below.
S&P Global's Chemical Economics Handbook –Amino Resins is the comprehensive and trusted guide for anyone seeking information on this industry. This latest report details global and regional information, including

Key benefits
S&P Global's Chemical Economics Handbook –Amino Resins has been compiled using primary interviews with key suppliers and organizations, and leading representatives from the industry in combination with S&P Global's unparalleled access to upstream and downstream market intelligence and expert insights into industry dynamics, trade and economics.
This report can help you
Identify trends and driving forces influencing chemical markets
Forecast and plan for future demand
Understand the impact of competing materials
Identify and evaluate potential customers and competitors
Evaluate producers
Track changing prices and trade movements
Analyze the impact of feedstocks, regulations and other factors on chemical profitability