Published August 2022
The C1-C4 alkyl acetates discussed in this report include methyl acetate, ethyl acetate, n-propyl acetate,is opropyl acetate, n-butyl acetate, isobutyl acetate, and sec-butyl acetate. Ethyl and n-butyl acetates are the major markets for C1-C4 alkyl acetates, accounting for more than 83% of the total world consumption for C1-C4 alkyl acetates in 2021.
Growth in demand for C1-C4 alkyl acetates varies by acetate and region. Surface coatings and printing inks account for most of the global C1-C4 alkyl acetates consumption; the exception is methyl acetate, which is used almost exclusively as a chemical intermediate in the manufacture of acetic anhydride.
The following pie charts show world consumption of ethyl and n-butyl acetates: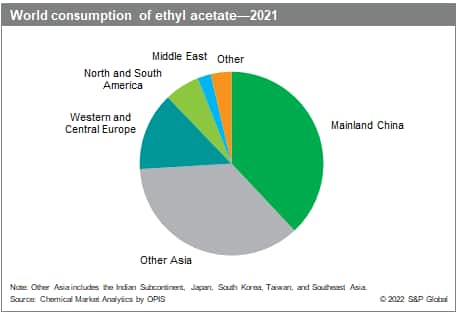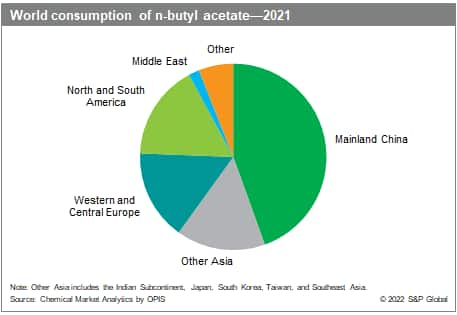 Demand in most downstream markets for C1-C4 alkyl acetates is greatly influenced by general economic conditions. The consumption of C1-C4 alkyl acetates in surface coatings depends heavily on construction/remodeling activity, automotive production and refinish activity, and original equipment manufacture (OEM). The demand for C1-C4 alkyl acetates in inks tends to be more recession-resistant, as most rotogravure and flexographic inks are used in publications and food, and beverage packaging.
Surface coating applications will continue to drive demand for alkyl acetates; this market accounted for around 40% of the global consumption in 2021. Growing demand centers such as India and mainland China will continue to drive global production.
sec-Butyl acetate is a relatively new end use for acetic acid. Mainland China accounts for almost all of the nameplate capacity for this product in 2021. sec-Butyl acetate is used mainly for coatings, pesticides, and gasoline blending in mainland China, where it is a growing market in China and most production is consumed domestically
For more detailed information, see the table of contents, shown below.
S&P Global's Chemical Economics Handbook – Alkyl Acetates is the comprehensive and trusted guide for anyone seeking information on this industry. This latest report details global and regional information, including
Key Benefits
S&P Global's Chemical Economics Handbook – Alkyl Acetates has been compiled using primary interviews with key suppliers and organizations, and leading representatives from the industry in combination with S&P Global's unparalleled access to upstream and downstream market intelligence and expert insights into industry dynamics, trade, and economics.
This report can help you
Identify trends and driving forces influencing chemical markets
Forecast and plan for future demand
Understand the impact of competing materials
Identify and evaluate potential customers and competitors
Evaluate producers
Track changing prices and trade movements
Analyze the impact of feedstocks, regulations, and other factors on chemical profitability