Published August 2023
Alkyd surface coatings continue to be one of the most highly consumed types of coatings used in the world, despite the increasing use of other film formers. The success of alkyd resin systems is a result of their relatively low cost, versatility and long familiarity with users. They can be tailored to meet a variety of end-use requirements through the choice and ratio of reactants and/or modifiers. Alkyds are used extensively in architectural coatings, product finishes and special-purpose coatings. Promoters of alkyd resins note that they are partly made from fatty acids or oils derived from renewable sources, making them greener than most competitive coating resins. Alkyds were the first synthetic coatings binder used in commercial practice, first used in large quantities in the 1930s.
Polyesters, also referred to as oil-free alkyds, are made in the same equipment as alkyds and use many of the same raw materials. Polyesters are used almost exclusively in industrial baking finishes.
The following pie chart shows world consumption of alkyd/polyester surface coatings: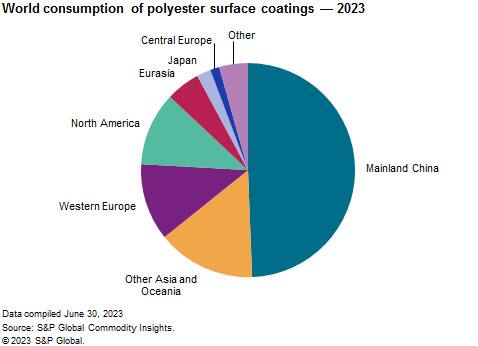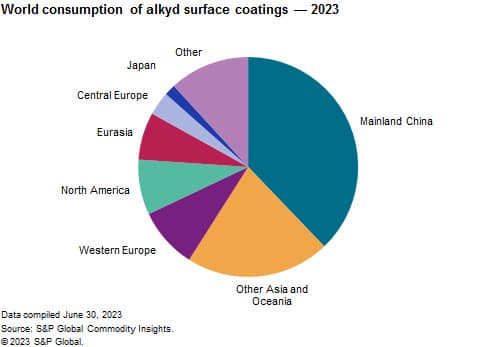 Despite the continuing decline in the market in North America, Western Europe, and Japan, alkyds remain one of the leading types of coatings used in the industrial marketplace.
In North America, Western Europe, and Japan, consumption of alkyds has diminished over the last 40 years. In the architectural or decorative coatings market, solventborne alkyds have been steadily replaced with waterborne emulsions because of their lower odor, lower solvent content, easy clean-up and fast drying properties. However, in some applications, these emulsions do not display the same degree of performance in leveling, adhesion, gloss and certain resistance properties. These drawbacks have stalled the conversion from most solventborne gloss trim, wood stains and light maintenance coatings, so solventborne alkyds remain a sizable factor in the coatings industry.However, restrictions on the use of paints are becoming tighter in certain parts of the United States and in Europe, which will forbid the use of conventional low-solids (i.e., high-solvent-containing) solventborne coatings.
As a result, the types of resins used in these regions in certain applications will change significantly. Most use of polyester coatings in the United States is in metal furniture, construction, appliances and transportation businesses that are mature and grow at GDP-like rates. Growth is expected to be 3.0% annually during 2020–15 as the United States recovers from the COVID-19 pandemic.
Producers continue to develop new and improved systems for high-solids and waterborne formulations to meet increasingly stringent air pollution regulations. In recent years, producers of alkyd resins have developed waterborne latex resins that meet the low VOC levels required by recently enacted legislation in certain parts of the United States and Western Europe. Generally, though, these environmentally friendly systems are considerably more expensive than the conventional systems, and have some technical drawbacks. Polyesters are offered in high-solids, waterborne and powder coatings, which are more environmentally acceptable.
Mainland China is the fastest-growing region in the world, and some multinational producers of resins and coatings have established production facilities here. In particular, the use of alkyd coatings for construction applications and of polyester-epoxy hybrid powder coatings on metal parts has grown rapidly.
Global consumption of alkyd coating resins and alkyd coatings is forecast to grow at an average annual rate of about 3% during 2020–25. Average annual growth in the consumption of polyester coating resins and polyester coatings will be 5% during 2020–25.
For more detailed information, see the table of contents, shown below.
S&P Global's Chemical Economics Handbook –Alkyd-Polyester Surface Coatings is the comprehensive and trusted guide for anyone seeking information on this industry. This latest report details global and regional information, including

Key benefits
S&P Global's Chemical Economics Handbook –Alkyd-Polyester Surface Coatings has been compiled using primary interviews with key suppliers and organizations, and leading representatives from the industry in combination with S&P Global's unparalleled access to upstream and downstream market intelligence and expert insights into industry dynamics, trade and economics.
This report can help you
Identify trends and driving forces influencing chemical markets
Forecast and plan for future demand
Understand the impact of competing materials
Identify and evaluate potential customers and competitors
Evaluate producers
Track changing prices and trade movements
Analyze the impact of feedstocks, regulations, and other factors on chemical profitability