Published September 2021
Acrylonitrile (ACN) is a commodity petrochemical produced primarily from propylene and ammonia. It is used in the production of a wide range of chemical products (mainly ABS/SAN resins, acrylic fibers, acrylamide, nitrile rubber, adiponitrile, and carbon fibers). The ACN demand pattern is relatively complex because of the diversity of its end uses; however, ACN demand is mostly dependent on the state of the economy. Acrylic fibers, historically the foremost ACN outlet, have gradually lost momentum as a result of competition from low-cost polyester fibers. In the meantime, other applications such as ABS resin or acrylamide have gained significant traction, especially within emerging markets. ABS resins now constitute the largest ACN outlet.
The following chart shows world consumption of acrylonitrile: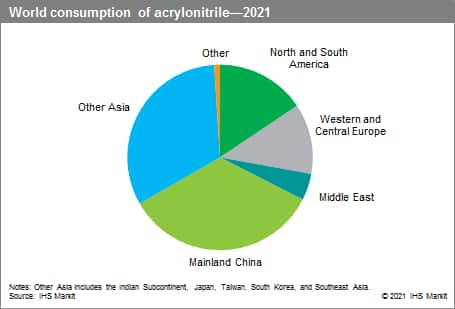 Acrylonitrile demand is dependent on the state of the economy, as recorded in the global recession during the COVID-19 pandemic. Most of ACN's major end-use markets (ABS/SAN resins, acrylic fibers, and adiponitrile) are cyclical and therefore directly affected by economic downturns, especially when consumer spending contracts. Conversely, the acrylamide and nitrile rubber markets have shown more resiliency over the past 10 years. Acrylamides are essentially used to produce polyacrylamides (PAM), which are primarily for wastewater treatment applications. The nitrile rubber market has been positively influenced by the fast-rising production of nitrile gloves, which are used primarily within the resilient and growing healthcare segment. However, both of these end-use markets are quite small.
For more detailed information, see the table of contents, shown below.
S&P Global's Chemical Economics Handbook – Acrylonitrile is the comprehensive and trusted guide for anyone seeking information on this industry. This latest report details global and regional information, including

Key benefits
S&P Global's Chemical Economics Handbook – Acrylonitrile has been compiled using primary interviews with key suppliers and organizations, and leading representatives from the industry in combination with S&P Global's unparalleled access to upstream and downstream market intelligence and expert insights into industry dynamics, trade, and economics.
This report can help you
Identify trends and driving forces influencing chemical markets
Forecast and plan for future demand
Understand the impact of competing materials
Identify and evaluate potential customers and competitors
Evaluate producers
Track changing prices and trade movements
Analyze the impact of feedstocks, regulations, and other factors on chemical profitability